professional advice on embracing new technology
Mike Figgis is the director of one of my favourite films, Liebestraum, as well as the much better known Leaving Las Vegas. He's multi-talented as a director, a musician, and a writer; but like most film directors (most recently David Lynch) he's now embracing the new possibilities of digital filmmaking. Suddenly, all the laborious paraphernalia of the Hollywood film-making process can be concentrated into a cheap hand-held digital camera that we could buy from Amazon for less than the price of an entry level laptop.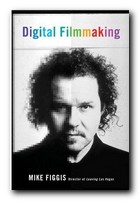 Figgis has taken on the new possibilities that these technological developments have made available. And in this book he's sharing his reflections on the art of film-making in a way which is addressing both an amateur YouTube enthusiast or a serious film school would-be at the same time.
And none of his advice is theoretical: he's actually using the new technology in making his own films. It's not so much a book of practical tips: this is more the philosophy of film-making. But he's acutely anti-snobbish about using the new equipment available. His emphasis is on the love of your equipment – get to know it, use its features, and don't imagine your talent is being held back by lack of access to the latest kit.
It's a terrific insight into the consciousness of a creative person: he thinks out loud concerning the creative process – all the time keeping in mind the practical matters of the medium in which he is working and how much it costs.
As the story progresses from one level of film technology to the next, you can feel his creative hunger coming off the page. Instead of telling camera and lighting technicians what you're looking for, why not do it all yourself? Which is what he did – even after being enmeshed with Hollywood. Indeed, as he argues, especially after being so. The new technology puts more control into the hands of the director.
He goes into a lot of interesting professional detail on such matters as lighting, camera movement(s) and dealing with actors – on all of which issues it seems he likes being in control, but with a sympathetic respect for the professionalism of others.
I was interested to note that when it got to the point of post-production editing, he dealt with the problem of having so much, in fact too much material – and the solution to this problem is what's called in the IT world 'meta-tagging' – that is, you need to name and log what you've got, in order to control the architecture of the final product.
His two final topics are music on soundtracks and film distribution – on both of which he knows whereof he speaks. He's a qualified music teacher and a former keyboards player with Roxy Music. It was his soundtrack for Liebestraum which first alerted me to the quality of his work. He has lots of ingenious suggestions for independent filmmakers and ideas galore for anybody who is prepared to engage in new digital technology.
It's a pity the book isn't illustrated – because from the text it's quite clear that Figgis makes a detailed record of his work process, and it would have been useful to see a few screenshots of the effects and techniques he's talking about. But as a guide to the new possibilities of film-making, it's truly inspirational.
© Roy Johnson 2007

  Buy the book at Amazon UK

  Buy the book at Amazon US
---
Mike Figgis, Digital Filmmaking, London: Faber, 2007, pp.158, ISBN: 0571226256
---
More on digital media
More on technology
More on theory
---