magazine design principles – plus practical examples
Digital Magazine Design is a guide to computer-based graphic design principles based on modern magazine production and its requirements. The manual provides detailed descriptions of all the necessary rules of design, and uses these rules to cast a critical eye over a selection of contemporary high-street magazines. It starts off by emphasising the need for understanding basic interface metaphors. If we know our way around one desktop, we can usually work out how to find our way round another. The same is true of print publications.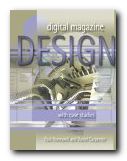 There is a convention to the order of items in a magazine of which casual readers are often unaware. Then Paul Honeywell goes through the elements of page design – using grids to structure graphics and text; controlling the density and appearance of the text by using line-spacing, hyphenation, and tracking. There's also quite a lot of technical detail pertaining to colour mixing and the use of images.
A couple of chapters deal with the details of digital type design – though more illustrations would have been useful in demonstrating the issues at point here. There's also advice on using a bureau when it is appropriate to outsource work. This goes into the details of file types, pre-press document checks, and keeping an accurate account of work flow.
The second part demonstrates how the tools of design can be applied to the
analysis and practice of contemporary magazine design. It's a collection of case studies – ranging from Hi-Fi News, Kerrang!, She, and Empire, to Classic FM magazine.
These cover analysis of magazine design, with before and after accounts of layout and typography – complete with effects on sales and readership. There's a lot of description here, where an illustration would have been far more effective.
These are post-graduate projects – revealed in the use of academic signposting ('This essay aims to closely analyse …') – which might easily have been edited out. This could easily be done if the book ever goes to a second edition.
© Roy Johnson 2003

  Buy the book at Amazon UK

  Buy the book at Amazon US
---
Paul Honeywell and Daniel Carpenter, Digital Magazine Design, Bristol: Intellect, 2003, pp.160, ISBN: 1841500860
---
More on publishing
More on journalism
More on creative writing
More on writing skills
---