academic essays on the e-Learning revolution
The Digital University is a collection of academic position papers and reports dealing with the relationship between information technology and teaching in universities. From my experience of IT awareness in higher education, it should be compulsory reading in most departments.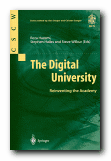 University education is currently being revolutionised by the use of Web-based teaching and learning systems. Everybody wants online learning systems – at least as a supplement to conventional teaching methods. This compilation looks at the impact which this revolution is having on all aspects of university life, including research, student support, teaching, and course management.
It covers authoring tools, multimedia learning systems, collaborative environments, distance learning, and course management.Some of the papers even discuss such small but important details as the spatial layout of computer labs, and using ready-made systems such as Lotus Notes for collaborative learning projects.
Most of the accounts are reports of practical projects and ongoing developments, and they include items such as checklists, questionnaires, and diagrams which other practitioners will undoubtedly find useful.
This is likely to be of most use to departmental heads, managers, administrators, or anyone else involved in the rapidly expanding world of online learning in higher education.
© Roy Johnson 2001
---
Reza Hazemi, Stephen Hailes, and Steve Wilbur (eds) The Digital University: Reinventing the Academy, London: Springer Verlag, 1998, pp.307, ISBN 1852330031
---
More on online learning
More on technology
More on digital media
More on web design
More on computers
---