Routledge Harwood Studies in Russian Literature
Vladimir Nabokov's work has been widely regarded as an elaborate series of linguistic games in which a variety of clever and seductive narrators invite readers to collude in a system of aesthetic and moral beliefs which are held so firmly that to dissent from them would seem like heresy or not playing the game. Editor David Larmour explains the title of this collection of essays as an exploration of the 'system of power relations in which the author, text, and reader are enmeshed'. In other words, Nabokov's strategies are seen as open to challenge, with the clear implication that he has been getting away with it for far too long.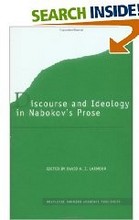 He is well known for his 'strong opinions', and some of his subject matter and authorial attitudes are very often seen as dubious – especially in Lolita, which gets special extended treatment here. Galya Diment starts the collection with her best efforts to defend Edmund Wilson from the damage inflicted on him by Nabokov in their now famous friendship-turned-dispute over the translation of Pushkin's Eugene Onegin. Then Brian Walter makes a lengthy criticism of Bend Sinister to say not much more than that it is not one of his best novels.
Galina Rylkova reveals a literary precedent for The Eye in a novel by Mikhail Kuzmin called Wings published in 1906. She has no problem in establishing the parallels between the two texts, but most of her lofty interpretive claims are undermined by her failure to see that Nabokov's narrator Smurov is a self-deceiving liar and a totally unreliable narrator. He is a comic-pathetic character who is a vehicle for one of Nabokov's most brilliant experiments in narrative – an experiment which was only matched in subtlety by his later Spring in Fialta.
David Larmour contributes an essay which looks at the relationship between sex and sport in Glory. But like many of the other contributors he accepts almost at face value what Nabokov has to say in his introductions – which were written at a later date. There is no acknowledgement of 'Trust the tale, not the teller', or 'Death of the author', whichever you prefer.
Paul Miller offers a chapter which demonstrates that Kinbote, narrator of Pale Fire is a homosexual – something which I would have thought any reader above the age of fifteen would realise without being told. There are some perceptive analyses of the American crewcut, but not much more than can be accessed by any reasonably attentive reader.
What struck me was how long it takes these writers to say so little. They come from what is now the bygone age of pre-Internet writing – one which persists in the modern world only thanks to the requirements of tenure in the US and the Research Assessment Exercise in the UK.
Tony Moore makes a valiant attempt to offer what he calls a feminist reading of Lolita, even enlisting the help of Camille Paglia, but his argument that Humbert Humbert changes his moral stance and his prose style at the end of the novel doesn't seem very convincing, especially when it simply ignores the fact that Humbert is guilty of murder.
There's also a full-on rad fem reading of Lolita from Elizabeth Patnoe which combines personal testimony and high moral outrage in a very unprofessional manner, ignoring any distinction between the worlds of fiction and reality. At the end of a long tortuous argument, one is left wondering why she bothers reading the novel.
She also has an annoying habit of describing almost every narrative twist as 'doubling' – a term she uses indiscriminately as a synonym for 'ambiguous', 'dubious', 'disingenuous', 'devious', 'evasive', and other related terms.
Fortunately the collection is rounded off by two sensible chapters by Donald Johnson and Suellen Stringer-Hye which place Nabokov in the context of popular culture and America in the 1960s. The collection is based on papers given at an academic conference. It's obviously one for the literary specialist, but Nabokov enthusiasts will not want to miss it – even if it's to sharpen their own critical analysis against the views being expressed.
© Roy Johnson 2004
---
David H.J.Larmour (ed), Discourse and Ideology in Nabokov's Prose, London: Routledge, 2002, pp.176, ISBN 0415286581
---
More on literature
More on the novella
More on literary studies
More on short stories
---