preparing for literary studies at undergraduate level
This book is designed to make students of literature think more deeply about the subject. It explains the development of English Literature as an academic discipline and poses fundamental questions about the activity – such as 'What is English [Literature] and what is studying it supposed to mean?' Robert Eaglestone's book aims to help students prepare for studying literature at undergraduate level. He offers a gentle introduction to literary theory – but without lots of jargon.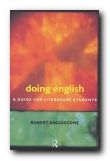 If students read what he has to say, they will certainly be more confident in confronting some of the challenges and contradictions which exist in literary studies in universities. For instance, tutors commonly deduct marks from students for poor written expression – and quite right too. Yet why do so many literary critics get published when their work is almost unintelligible? These are questions worth asking. He explains the rise in 'Eng Lit' and uncovers some of the hidden assumptions which lie beneath the surface of traditional attitudes to it. This is in fact an explanation of the ideology of 'Eng. Lit.' – but he cleverly avoids even using the term.
He unpacks the concept of the literary canon and looks in detail at Shakespeare studies as a prime example. This is followed by issues of interpretation which are summed up in the expressions 'the intentional fallacy' and 'the death of the author'.
The latter parts of the book are devoted to considering the relationships between English Literature and cultural identity, politics, and educational policy. His consideration of these larger strategic issues make me think that this book will be as valuable to teachers as to students. It will help them clarify their ideas about their objectives and teaching strategies in the classroom.
There is an excellent and deeply annotated bibliography. Any student [or teacher] reading even a few of the titles he recommends will be well prepared to put their own approach to literary studies into a well-informed ideological context. [But they don't have to mention the term.]
© Roy Johnson 2009

  Buy the book at Amazon UK

  Buy the book at Amazon US
---
Robert Eaglestone, Doing English: A guide for literature students, London: Routledge, 3rd edition 2009, pp.192, ISBN: 0415284236
---
More on literature
More on the novella
More on literary studies
More on short stories
---