best-selling guide to research methods and techniques
Judith Bell is a distinguished authority on educational practice, and she had the foresight to produce what many students crave – a clearly written guide to research methods. The result was Doing your Research Project, a source of reference and a guide to good research practice which has become a best-seller. It was produced for students in education and the social sciences, but anybody embarking on a lengthy written project would profit from reading this book.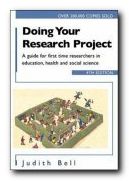 The strength of her approach is clarity and good organisation. Separate chapters deal with each stage of undertaking a project in a way which explains exactly what is required, and it's written in a humane and friendly manner. Topics covered include the selection of a research subject, collecting data and keeping records, reviewing the literature, designing questionnaires, interpreting evidence, and presenting the findings. The book has sold more than 200,000 copies by the way.
What I liked particularly was the fact that she covers exactly those issues which intimidate many students when they first tackle a lengthy project. How to identify a proposal from amongst the materials you have assembled; how to keep track of your notes; how to actually produce such a long piece of work; and what to do with the results you finally assemble.
This is an excellent guide to research methods and writing which well deserves the success it has found as the more-or-less standard work in this area. It's suitable for anyone producing an undergraduate project, an MA or MEd dissertation, or even a PhD thesis.
Make sure you get the latest fifth edition, because it's been updated to include materials on the use of computers and information technology. It also has more examples of research in a wider range of disciplines, and additions to checklists. There are also new materials on research diaries, plagiarism, and the use of Internet resources. Each chapter has a summary checklist and its own suggestions for further reading. There's also a full bibliography.

  Buy the book at Amazon UK

  Buy the book at Amazon US
© Roy Johnson 2010
---
Judith Bell, Doing Your Research Project: A Guide for First-Time Researchers in Education and Social Science, 5th edition, Buckingham: Open University Press, 2010, pp.290, ISBN: 0335235824
---
More on writing skills
More on online learning
---