avant-garde downloadable fonts and design styles
Here's an unusual idea – a book which is an introduction to a web site. Well, not exactly – because there's more to it than that. The print version shows you what's on offer, but the site allows you interactive connection with the software. This is what used to be called in the world of rock music, a 'concept albumn'. Still confused? Read on. DesignerShock is a German-based collective of graphic design artists. They've come up with the idea of making design software available online.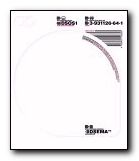 This comes in the form of downloadable fonts, screensavers, wallpaper, product packaging, undsoweiter. You're with it so far? But they also offer an additional element. You buy the book – which illustrates their designs – and it comes with a CD which gives you access to their web site. So, you have access to unlimited free use. You can download then change, stretch, and adapt the basic information to suit your own taste, using morphing software.
But the problem is that the book is quite hard to read. It's difficult to know what is main text matter and what is extraneous page decoration and book navigation details. Sometimes the book's own system of presenting graphics seems to overwhelm its contents.
The examples they show are almost all avant-garde – that is, nearly unreadable. You've got to have a strong stomach to even take them seriously. There is one set of fonts in which the letters H and W are identical.
There are also examples of product package designs, icons, dingbats, and did I mention? – the book also doubles as a mousemat. It's all wacky – but there is the germ of a good idea in here.
© Roy Johnson 2001

  Buy the book at Amazon UK

  Buy the book at Amazon US
---
Stefan Gandl, Alexander Dewhirst, Designershock, DSOS1 DesignerShock, Berlin: Die Gestalten Verlag, 2001, pp.180, ISBN: 3931126641
---
More on typography
More on design
More on media
More on web design
---