secrets of successful multimedia design
Dust or Magic is a book for people who want to know about or work in the new media. It takes the line of revealing the truth about how multimedia projects really work – pointing to both successes and complete turkeys. Bob Hughes has been active in the field over its last decade, and he discusses a fascinating range of examples – from websites and CD-ROMs to kiosk programs and interactive video.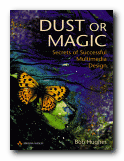 He starts with an account of digital technology from Alan Turing onwards – but the chronology darts backwards and forwards from Russian constructivists to Greek theatre and back again to Richard Wagner. Later, he settles down to a slightly smoother chronology, but without sacrificing his wide range of reference. He offers Vannevar Bush, Douglas Engelbart, and Ted Nelson as key pioneers and presents excellent accounts of their work.
This is followed by detailed sketches of the pioneers of Virtual Reality, Interactive Video, and early hypertext programs such as Guide, Toolbook, and Hypercard – including developments which have been passed by which he claims could be revived with the development of new technology.
There's something of an intellectual dip in the middle of the book when he compares English revolutionaries of the seventeenth century with the Guerilla Girls, and he celebrates web sites and Hyperstacks which are not much more than collections of idiosyncratic enthusiasms. Fortunately, the level rises again with a whole chapter devoted to Voyager, which he claims made innovations with the bare tools [Hypercard] available at the time.
The latter parts of the book are devoted to accounts of working on multimedia projects – one for the Nationwide Building Society, of all people – and he covers the disaster of the Microsoft 'Sendak' project, before passing on to discuss theories of 'creativity' and report on forays into the world of advertising. He discusses the psychology of idea-generation, its relation to programming and the world of computer games, the advantages of motion and sounds on screen, and there are some interesting observations on the need for visual 'transitions' between one screen of information and another.
Reading all this, you get an invigorating sense of intellectual excitement, the downside of which is that no single idea is pursued to any depth. This is a weakness occasionally reinforced by a surprisingly cavalier attitude towards his readers – 'sorry – I've lost the URL'.
And yet he's actually gone to the trouble of locating the original authors of some of these programs – an admirable trait in an age when a lot of software has a lifespan of five years or less. He's very fond of using metaphors to explain his arguments, and there are lots of interesting historical anecdotes woven as side-bars into the text. At its best, he throws up novel connections from different media and sources of technology; at its weakest, he flits from one unexamined generalisation to another.
Apart from concluding that projects are best carried out by small teams, he never seems to get round to explaining the 'secret' in his sub-title, but this is a lively and stimulating introduction to the history of software development which should go onto the reading list of anyone who wants to know what happens on real-life projects. It's a revelation of the costly disasters as well as a celebration of the often unsung heroes of new technology during the last thirty years.
© Roy Johnson 2000

  Buy the book at Amazon UK

  Buy the book at Amazon US
---
Bob Hughes, Dust or Magic: Secrets of Successful Multimedia Design, London: Addison-Wesley, 2000, pp.264, ISBN: 0201360713
---
More on online learning
More on technology
More on digital media
More on web design
More on computers
---