practical guide and resources for the e-tutor
This is written from the perspective of practising FE teachers – and healthily sceptical ones at that – well aware of the resistance to and pitfalls in e-learning. And it covers all the possibilities – from simple Word documents to Moodle and other advanced courseware. They start off by looking at all the very common objections made to the use of IT in teaching. 'Computers can't replace teachers'; 'It might be OK in other subjects, but not mine'; and 'Not in my back yard'.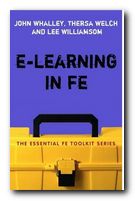 You'll have heard them all. These are firmly refuted, whilst at the same time they acknowledge the sceptics and the pressures of daily life in FE. Then come some simple suggestions for interactive eLearning without any advanced IT skills – largely based on using the tools available within Microsoft Word and PowerPoint – to which many (if not all) are likely to have access.
This includes the inventive suggestion of using 'comments' to attach audio files giving feedback on pieces of submitted work – which shows what's possible with these relatively simple and widely available features. This technique is not complex and is within the technical skills of most tutors. Moreover, it can be used in both 'directions'. Students in art and design can supplement their submitted work with critical commentaries on their choice of materials via attached podcasts.
There are also examples of audio recordings used in PowerPoint for language lessons – and as they point out, these techniques can easily be repeated with new materials. Once an item of interactivity has been created, it can act as a 'learning object' – a small, independent and re-usable unit of learning.
Next comes a tour of the free and nearly-free software programs which allow tutors to create course tests and exercises: Hot Potatoes (quizzes) Action Mazes (choice actions) mind mapping, course management tools, and web quests. The main problem here is that many of these programs merely encourage users to link up existing Word files to create a spurious sense of interactivity – which isn't real eLearning.
The new digital classroom can make use of cameras, audio-recording devices, and video recorders – all of which are now regularly combined in mobile phones. There's also a discussion of interactive whiteboards (which I personally recommend you practise using thoroughly before embarrassing yourself in front of a class).
And if you don't want to make your own eLearning materials, there are lots of ready-made options available for free or licensed download. They include maps, images, encyclopedias, and mini-courses endorsed by BECTA and NLN (National Learning Network).
This leads naturally into a discussion of how these materials are made available to students. The answer is via VLEs (Virtual Learning Environments). These can be intimidating for teachers – but at the same time their salvation. What they offer is a central repository for documents, exercises, student work, learning plans, and interactive courses – as well as facilities such as email, chat rooms, and discussion forums.
There's an interesting chapter on mobile learning devices – laptops, PDAs, phones, and tablets. What emerges here as the unsung hero is the flash disk (or pen drive) – up to 2 GB of complete portability which can store information and even executable programs and fits in your shirt pocket.
They end with a comprehensive review of the support organisations and sources of help for the aspirant eTutor. My only reservation was that there might have been more practical examples and illustrative screenshots. But apart from that, I would say that this was the best guide to eLearning I have come across.
© Roy Johnson 2006

Buy the book at Amazon UK

Buy the book at Amazon US
---
John Whalley, Theresa Welch, Lee Williamson, E-Learning in FE, London: Continuum, 2006, pp.118, ISBN 0826488625
---
More on online learning
More on technology
More on digital media
More on web design
More on computers
---