Anglo-American modernism and graphic design
Edward Kauffer (the McKnight was added later) was an American artist from a relatively poor background in Montana USA who compensated for a lonely childhood by his interest in drawing and art. He was fortunate enough to see the famous 1913 Armory Show of contemporary European art in Chicago and shortly afterwards he left for a brief version of the Grand Tour in Munich and Paris. This was curtailed by the outbreak of war – so he ended up in England. Via a series of very fortunate connections he secured a position working for London Underground, and produced a series of posters advertising the pleasures of suburbia and the countryside at the end of the line. E. McKnight Kauffer Design is an elegantly illustrated introduction to the full range of his work.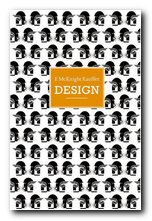 These images made him famous, and the style he developed is now reproduced as exemplars of both good design and instant nostalgia. He was influenced by his studies of Toulouse-Lautrec, Alphonse Mucha, and the Sachplakat style he had seen first hand in Germany. Strongly shaped design, flat colours, and bold outlines were the hallmarks of these works.
He was also influenced by geometry ("We live in a scientific age, an age of T-squares and compasses") plus Cubism and Orphism (as propounded by Robert Delauney). Following the establishment of his reputation in England, he also produced bibliographic designs for the Nonesuch Press and the Hogarth Press.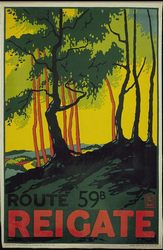 With the outbreak of the second world war however, these commissions dried up, so he returned to America. But because his reputation by that time was an English designer, he found it difficult to become established again in his homeland. As Peyton Skipwith explains in his introductory essay to this collection of Kauffer's work, "Like many another expatriate, his reputation seems to have got stuck somewhere in mid-Atlantic"
But he designed book jackets for Alfred Knopf, Harcourt Brace, and Random House and his career did finish on something of a high note with a series of posters for American Airlines which definitely do have a more national style.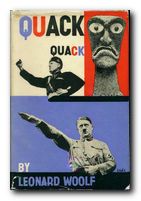 Some of the English book illustrations become slightly bucolic and whimsical, but wherever he asserts his appreciation of modernism (and the influence of The New Typography and Russian constructivism) the results are very powerful. Kauffer lived at a time when the term used to describe such work was the rather slighting 'commercial art' – but we would now call it 'graphic design'.
The series of design monographs of which this volume is part feature very high design and production values. They are slim but beautifully stylish productions, each with an introductory essay, and all the illustrative material is fully referenced.

  Buy the book at Amazon UK

  Buy the book at Amazon US
© Roy Johnson 2010
---
Brian Webb and Peyton Skipwith, E. McKnight Kauffer: Design, Suffolk: Antique Collectors Club, 2007, pp.96, ISBN: 1851495207
---
More on design
More on media
More on web design
---