coursebook for ECDL, or for improving computing skills
The European Computer Driving Licence (ECDL) is an internationally recognised certificate of computing skills. In a climate where employers are increasingly keen to employ staff with proven IT skills, the ECDL is highly regarded and provides proof of competence in the most common software applications. The licence is awarded to candidates who pass tests in seven modules, which together make up the ECDL syllabus.
Basic Concepts of IT
Using the Computer and Managing Files
Word Processing
Spreadsheets
Databases
Presentations
Information and Communication
This coursebook has been fully approved by the ECDL Foundation. If you can grasp these basic skills, you are well on your way to computer proficiency.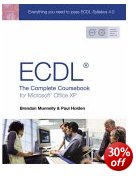 It devotes a chapter to each of the modules and provides a comprehensive guide to some of the most common business applications. It's written in clear, easy to follow language. It's also jargon free and assumes little or no previous knowledge of the applications that it covers. Both the tests and the book are based on Microsoft software – and in particular Windows XP®, Internet Explorer 5® and Outlook Express 5®.
Although the ECDL modules are numbered, the tests can be taken in any order. However, the authors here assume readers will work through the sections in order. The earliest sections are aimed at the complete beginner and they explain basic computer terms and concepts. The later chapters provide less explanation of the basics.
Much of the material covered will be familiar to a regular computer user, but there are very clear explanations of, for example, the difference between ROM and RAM, and the meaning of bits and bytes. This is the only section of the coursebook that is entirely theoretical. Its aim is to prepare the reader for a multiple-choice test on the key concepts of Information Technology.
The rest of the book contains over 280 easy-to-follow exercises, which guide you through the various features of the relevant applications. Starting with the simplest of tasks, the exercises enable you to become familiar with the software before introducing its more advanced features. There are over 700 screen shots which show what the results should look like.
There are also plenty of hints and shortcuts, and it's likely that even the most confident of computer users will pick up the odd little gem.
I used this book as preparation for my own ECDL tests. Since gaining the licence I've referred back to it many times to refresh my memory on various points and have found many of its hints and tips to be invaluable.
For anyone interested in taking the ECDL, this book contains everything you will need to pass. And it wouldn't be wasted on those who simply want to improve their knowledge and skills in popular software applications.
More information about the ECDL is available from the official website at http://www.ecdl.com/
© Kathryn Abram 2003
---
Paul Holden and Brendan Munnelly, ECDL4: The Complete Coursebook, Prentice Hall, new edition 2003, pp.640, ISBN 0130399175
---
More on technology
More on digital media
More on online learning
More on computers
---