Electronic Texts in the Humanities is an excellent overview of the relation between computers and texts. It covers all the essential issues in understanding the latest possibilities of using digitised text in academic study and research. Susan Hockey deals with all aspects of the encoding, markup, and tagging which renders an electronic version of any text searchable and accurate. She also discusses the currently available software and indicates what future developments are required to extend its usefulness. It's a book which will be of interest to linguists, lexicographers, socio-linguists, literary theorists, historians, and any humanities discipline which relies on the interpretation of texts.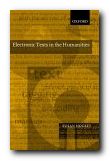 Along the way she gives an assessment of the existing scholarship in her accounts of research papers and the most recent articles. There are some very useful explanations of SGML and XML, the Dublin Core standards for meta-data, and the Poughkeepsie Principles for encoding and interchange of electronic text. She explains how once a text is in digital form, it can be used to produce concordances, alphabetical listings, and a variety of sortings which can reveal how the same word is used in different contexts. There's also a chapter describing how literary critics have used computer-generated analysis to assist their interpretations of texts – amongst which she also includes analysis of poetry and non-Latinate languages.
There's also coverage of corpora – which are large databases of examples from spoken or written sources. These are used as the basis for statistical analysis to show language change, frequency of use, and contextual usages.
This is followed by what's called 'stylometry and attribution studies'. That is, making the case that author A wrote text B because of certain measurable word choices or patterns. These quasi-scientific tests have been used to examine cases of disputed authorship such as the Gospels from the Bible and some of the texts in the Shakespeare-Bacon controversy. There are also some examples of the shortcomings of these approaches when used in court cases as evidence.
The chapter I found most interesting was on textual criticism and electronic editions. This deals with establishing editorial principles, and it also examines the possibilities of multiple editions (archives) as well as showing how these can be produced in a variety of forms once they have been tagged.
She ends with dictionaries and lexical databases, describing in detail the major enterprise of producing the Oxford English Dictionary, as well as projects which examine old dictionaries to see what they can tell us about the people who compiled them.
This study concentrates on tools and techniques for working with electronic-based sources in the humanities. Its primary audience is teachers and students working in language-based subjects. But it will also be of interest to librarians and information scientists who are now working with electronic texts. For anyone interested in digital writing, it's worth it for the superb bibliography alone – thirty pages which will take you in whichever direction you wish to go.
© Roy Johnson 2002

Buy the book at Amazon UK

Buy the book at Amazon US
---
Susan Hockey, Electronic Texts in the Humanities, Oxford: Oxford University Press, 2000, pp.227, ISBN: 0198711956
---
More on writing skills
More on online learning
---