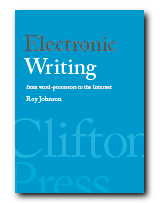 Electronic Writing is an introduction to new writing techniques using computers and the Internet. It covers word processing, desktop publishing, and how to create better-looking documents. Clear guidance and an explanation of digital text, electronic mail, and hypertext, including the basics of writing for the World Wide Web. Electronic Writing features clear explanations in non-technical language, and it reveals the new possibilities for writing in the digital age. You can add your own notes and live hyperlinks to personalise your eBook and make it even more interactive.
New design – stylish typography and layout – great value
Sample pages Word-processors — Electronic Writing — Hypertext
[eshop_addtocart]
Author
Dr Roy Johnson is the author of best-selling writing and study guides – Studying Fiction, Making the Grade, Improve your Writing Skills, Writing Essays 3.0, and several others. He was originally an industrial designer, then went on to lecture on literary studies at Manchester University and the Open University. He publishes a monthly newsletter on writing, culture, and technology, and is the director of Mantex Information Design.
---
Full contents
Introduction – Word-processors – Basic commands – File management
Editing – Saving – Default settings – Filenames – File size – Cuttings
Bookmarks – Beginner's problems – Drafting and Editing – Multiple drafts
Spell-checkers – Grammar checkers – Thesaurus – Over-writing – Search
and replace – Long documents – Editing on screen – Desktop publishing
Fonts – Indentation – Spacing – Justification – Headings – Underlining
Hyphenation – Bulleted lists – Widows and orphans – Page numbering
Electronic writing – The Internet – Electronic mail – Newsgroups
Netiquette – Hypertext – The World Wide Web – Writing and hypertext
Glossary – Further reading – Index.
This book will help you to understand computers, word-processors, and the Internet. You will learn new writing techniques, and how Information Technology can be made to work for you.
Details
Price – £1.95 – 127 pages – PDF format – first pub 1996 – ISBN 0951984462

Questions and Answers on our products
---
---


You can make this purchase via PayPal – using either a PayPal account or a credit card. It's quicker using PayPal – but you can also use your credit card details in the normal way. Both types of transaction are completely secure.
---