a sourcebook of contemporary typographics
If you are the slightest bit interested in font design – get hold of this book. It's both a stylish introduction and a compendium of the best in modern typography. It's a collection of designs from font companies and individual typographists. Designers from the most prestigious studios were invited to submit examples of their type in commercial use. These include traditional designers such as Gerard Unger, Sumner Stone, and Matthew Carter – but the main emphasis is on influential young typographists such as Neville Brody, Zuzana Liko, David Carson, and Erik van Blockland.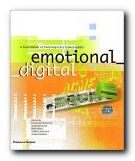 There are potted accounts of each company, so you get an idea of the intellectual context out of which each set of designs arises. For instance, fonts such as Bitstream's 'Galaxy' which was used for the StarTrek films. The designs are shown in use in a huge variety of forms – letterheads, posters, printed books, commercial stationery, and advertising flyers. It even includes examples of typographic jewellery.
[It's a] snapshot of the current state of typography: it provides an overview of the international type scene … and serves as a history book and future-oriented reference work in one.
There are also mini-essays by prominent designers punctuating the entries. These vary from brief individual polemics to thorough technical articles such as Zuzana Liko's account of designing a series of fonts for the Emigré website.
The axis is very much Germany, London, and both coasts of America, but en passant the collection also takes in Russia, France, and Spain.
All the fonts illustrated are meticulously identified by named designer and date, and full details of all the designers are given, including their email address and websites.
If you are interested in fonts, typography, or graphic design, this book is a treat from start to finish. Thames and Hudson specialise in good quality design manuals, but they have surpassed themselves with this one.
© Roy Johnson 2002

  Buy the book at Amazon UK

  Buy the book at Amazon US
---
Alexander Branczyk et al, Emotional Digital: A sourcebook of contemporary typographics, London: Thames & Hudson, 2001, pp.312, ISBN: 0500283109
---
More on design
More on media
More on web design
More on typography
---