a selection of resources reviewed
One rapidly expanding opportunity for writers using the Internet is the creation of eBooks. These have the advantage that they can be written, stored, and sent electronically. ePublishing is available for whatever you wish; it doesn't cost much; you can start small; there are no printing, storage, or postage costs; and you can control the whole process from your back bedroom.
eBooks can be read on desktop computers, but many people prefer to use laptops, eBook readers, or PDAs (Personal Digital Assistants) such as the Palm Pilot. Other people print off the pages and read from the conventional page. So you've got to be prepared to supply your text in a number of different formats if you want to reach all audiences.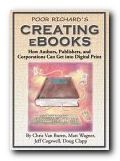 Creating E-books
Chris Van Buren and Jeff Cogswell address all these issues, and provide you with all the information you need to make a start. They include a survey of the e-publishing business; planning and creating an e-book; getting the book published; finance and copyright; and a selection of personal success stories. One of the more interesting features of the advice they give is that it's suitable either for individuals with just one book to market, or for people who might wish to set up as publishers, ready to promote several titles. As usual with the excellent Topfloor 'Poor Richard' series, every chapter is packed with recommendations for online resources – many of which are low-budget or free.
You can market your own eBooks, but a very popular alternative is to place titles with distributors like Fatbrain and split the proceeds. There are also electronic versions of conventional publishers who will pay you royalties up to fifty percent.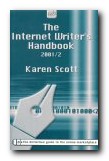 The Internet Writer's Handbook
This is a detailed guide to publishers of the two formats which are most digital – e-zines and e-books. It's in the form of an international A-Z listing of the best websites for writers to target, with full contact details for all websites listed. It offers plenty of detail on how to submit your work , how much publishers will pay, and even how they are most likely to respond. The topics these publishers cover range from poetry and fiction, through non-fiction writing, to specialist publications.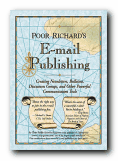 Email Publishing
It's quickly apparent to most writers that this system means that self-publication is an attractive option. In fact Chris Pirillo argues that email publishing can be much more effective than the Web. How is this? Well, he describes publishing via a web site as "like opening a hamburger stand in a dead-end street". Not many people will pass by, and even fewer are likely to make a purchase.
On the other hand, almost everybody reads their e-mail, so why not use it as a vehicle for publishing instead? Some of the more popular e-mail newsletters have up to 400,000 regular subscribers. In he outlines all the possibilities – discussion groups, bulletins, and announcement lists – but it's the free e-mail newsletter which is at the heart of this book. He takes you through all the technicalities of how to run one.
This can be used to promote your writing – or even as a hot and direct form of journalism if you are a non-fiction writer. And this guy knows whereof he speaks. He publishes several email newsletters every day, draws down revenue from advertisers, and earns a living from it.

Publish your writing
© Roy Johnson 2009
---
More on publishing
More on journalism
More on creative writing
More on writing skills
---