writing for the Web – a popular revolution
Blogs (it's a contraction of Web Logs) are a form of personal diary kept as Web pages. They can record anything from the trivial details of your own life to online political manifestos. But why would anybody want to read them? Well, some people have transformed the personal diary into an art form, most sprinkle their pages with useful links, others develop what amounts to a one-person daily newspaper, and a few manage to spin out an entirely new form of instant journalism.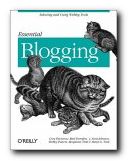 It's so easy, you see. All you need to do is register with a Blogging site, type your thoughts into the templates they provide, and press the Go button. A few seconds later, you're published on the Web. Of course there's a little more to it than that – but not much. This book offers a tour of the best blogging sites, how to upload and maintain your pages, and how to configure the options to get the best effects.
A series of chapters, clearly written by enthusiasts, takes you through which Blog sites and software are available – from Blogger, Radio Userland (free software), Moveable Type, and WordPress. Some of these have developed rapidly beyond mere blogging tools into small-scale content management systems.
All this is expanding at a breathtaking rate. Some people even have blogs running alongside serious Web sites. When you come to look at the thousands upon thousands of blogs, you will be amazed at the variety and the skill of the best.
There's an element of evangelical fervour in all this. Many bloggers seem like techno-Hippies, but the most thoughtful, such as Meg Hourihan, have made claims for blogging as a new form of writing:
Freed from the constraints of the printed page (or any concept of 'page'), an author can now blog a short thought that previously would have gone unwritten. The weblog's post unit liberates the writer from word count.
And just in case you think this might all be a little trivial, these blogs are real Web pages. So they are tracked by search engines – and if enough people read them, they might therefore become 'famous'. Many are already joining affiliate programmes and even attracting advertising.
If you want to join in this frenzy of personal expression, build your own soap box, or develop your own one-person newspaper – everything you need by way of instructions is in this one book.
© Roy Johnson 2002

  Buy the book at Amazon UK

  Buy the book at Amazon US
---
Cory Doctorow et al, Essential Blogging, Sebastopol (CA): O'Reilly, 2002, pp.244, ISBN: 0596003889
---
More on publishing
More on journalism
More on creative writing
More on writing skills
---