tutorial, commentary, study resources, and web links
Eugenie Grandet (1833) was one of the first great works to emerge from Balzac's grand survey of French society, a collection to which he gave the general title La Comedie Humaine. It's a short novel, but one that signals all the themes he was to explore in the many volumes that followed. Principal issues include social ambition, thwarted dreams, disappointed love, greed, and underpinning everything else the accumulation of property and the yearning for social status.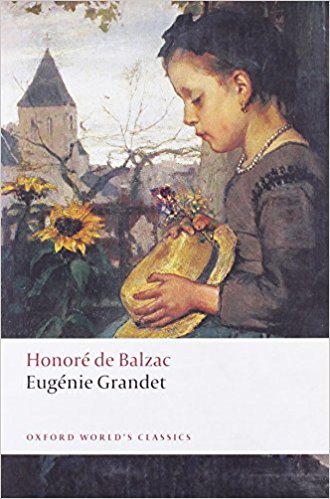 If you have not read Balzac before, this is a good place to start. The story is quite simple. A young provincial girl Eugenie is dominated by her tyrannical father, the miser Felix Grandet. She falls in love with her playboy cousin Charles, and when he is suddenly left penniless she gives him all her money and waits seven years for him to make his fortune abroad. Events do not turn out quite as she hopes – or as the reader might think.
---
Eugenie Grandet – commentary
Characterisation
This is an early work by Balzac, and some of the characters are not particularly well defined. It is difficult to tell the difference between the members of the Grassins and the Cruchots for instance, the two families who are both hoping to marry a son to the heiress Eugenie. But one character dominates the entire narrative – the miser Felix Grandet. He is relentlessly mean, penny-pinching, acquisitive, and pathologically obsessed with money – gold in particular. His character dominates the entire novel, from first page to last.
He not only apportions the meagre rations for the family meals every day, but he puts out the fire in one room so as to save fuel when going into another. He doles out the lumps of sugar for people's coffee – and even cuts up the lumps into smaller pieces in his spare time.
This petty domestic tyranny is quite amusing, yet at the level of commercial enterprise he is enormously successful. From his origins as a humble cooper, he acquires vineyards; he sells his wine at a profit; he outsmarts his competitors; he buys and sells commodities at the right time, and he calculates the profitability of his land to maximise its return on investment.
However, the extent of his greed reaches far more serious depths. He eventually defrauds his own daughter by arranging a legal document in which she signs over control of her own inheritance to him. And he remains au fond a study in pathological avarice – obsessed by gold, which he hoards in his closely guarded room and gloats over at night in private. He is memorable because he is so much larger than life figure.
His daughter Eugenie on the other hand is the innocent victim of his psychological sadism and domestic tyranny. Eugenie and her mother suffer his bullying without complaint for the major part of the novel. There is an element of Cordelia and King Lear in their relationship.
But Eugenie's provincial Calvary is interrupted by a major occurrence in her otherwise uneventful life. She falls in love with her dashing cousin Charles. This at first has all the appearance of a fairy tale – the princess in her metaphorical tower rescued by the arrival of a handsome prince.
Balzac continues to exploit reader expectations in pursuit of this portrayal of virtuous innocence. Eugenie and Charles seal their mutual love with a pact of fidelity, Eugenie gives him all her money to fund his colonial expedition, and she then waits for him patiently for seven years. It is at this point that Balzac reveals his creative genius with a double irony and a dramatic shift in Eugenie's characterisation.
The double irony
Charles turns out to be a shallow-minded adventurer. He is revealed as an unscrupulous slave trader who on return to Europe seeks to marry into the lower echelons of the aristocracy. His letter to Eugenie renouncing their pact of eternal love strikes her like a hammer blow.
But she does not capitulate to the shock in a conventional manner. Instead, she contracts a marriage of convenience to someone else – on the explicit condition that it is never consummated. She does this still bearing what she calls 'an inextinguishable love in [her] heart'- for the memory of what Charles once was to her. That is part one of the double irony.
Part two comes in successive phases. First Eugenie marries her wealthy suitor the President de Bonfons. She thereby enhances her social status, and then on his early demise (and because they have by her design no children) she inherits his personal fortune to add to her own. Even after paying off her uncle's bad debts she is still in possession of seventeen million Francs – a fact whose significance is not lost on the greedy and ambitious Charles.
But a further twist is yet to come – less dramatic, though just as significant in terms of the novel's major themes. This immensely rich Eugenie, a widow at thirty-three, then lives on in the drab house where she was raised. Furthermore, she voluntarily adopts the frugal lifestyle of her earlier years, even dressing in her mother's clothes. She becomes, in one sense, not unlike her father.
The Napoleonic Code
There is one feature to the background of events in the novel which may not be immediately apparent to readers unfamiliar with French society and its conventions. Following the revolution of 1793 there was a radical overhauling of the legal system. This included a law that required property and capital to be inherited solely via family connections.
If you are English with a million Pounds in the bank, you can leave this money to whomever you wish by making a will. You can nominate as legatees your children, your friends, or the Battersea Dogs Home. But in France, your money (and property) can only be willed to your children. [This is an over-simplification of a very complex system.]
In Eugenie Grandet the gold-obsessed Felix Grandet has made everyone suffer whilst amassing his considerable wealth. But fortunately for the sake of poetic justice, the entire property and its income from rents and dividends on government bonds reverts to Eugenie following her father's death. She also increases her net worth by marrying the President – and because it is a marriage of convenience with no consummation and no possible children – she inherits all the President's wealth on his demise.
The intrusive narrator
This is a term used to describe stories or novels in which the person telling the story (the narrator) intrudes his or her own opinions into the account of events. The narrator might be a fictional character, or it might be the author. Many narratives are presented by neutral or 'invisible' narrators who remain absent from the story they are telling.
Balzac on the other hand is one of literature's most famously intrusive narrators. He pretends to be offering a neutral and unbiased account of events. This is in keeping with his claim that he is acting like a scientist or a professional sociologist, recording the history of French manners in the post-revolutionary epoch.
But he intrudes regularly and quite blatantly into his own stories to deliver his opinions on French history, to give mini-lectures on the workings of the financial markets, and homilies on 'behalf' of his own characters. He generalises wildly on the nature of men and women and their 'place' in society; he volunteers his opinions on famous works of art; and he proselytises repeatedly on behalf of the Catholic Church and the need to retain a Monarchy
This is a feature of Balzac's style which some of his critics have found very irritating, but his defenders (and I am one of them) point out that many of his opinions reflect a well-founded knowledge of the way society worked at the time of his writing. His personal beliefs (Catholicism and Monarchism) can safely be ignored, because they do not seriously affect the logic of his narratives. And many of his aesthetic judgements have been substantiated by subsequent commentators and have stood the test of time. If there are occasional infelicities, this is a small price to pay for the entertaining exuberance of his volcanic creativity.
Balzac was a prodigiously productive novelist – but he was also a failed businessman. He knew how the markets worked. He knew that contracts drawn up by lawyers in one generation could influence the destinies of characters in the next. He knew the connections between the law, the stock market, and the lifestyles people could afford.
We read him not just as a great story teller, but also as a perceptive sociologist and even a political philosopher. When he reveals exactly the sources and extent of each character's income, this is his method of showing how morals and manners were closely related to economics. It is not surprising that Balzac was one of Karl Marx's favourite novelists.
---
Eugenie Grandet – study resources

Eugenie Grandet – Penguin Classics – Amazon UK

Eugenie Grandet – Penguin Classics – Amazon US

Eugenie Grandet – Oxford Classics – Amazon UK

Eugenie Grandet – Oxford Classics – Amazon US

Eugenie Grandet – Everyman – Amazon UK

Eugenie Grandet – Everyman – Amazon US
Cambridge Companion to Balzac – Cambridge UP – Amazon UK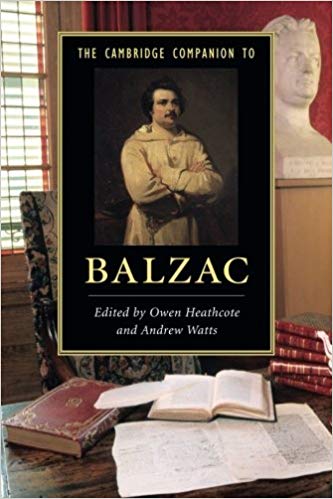 ---
Eugenie Grandet – plot synopsis
Portrait of Bourgeois
An old miser Felix Grandet becomes a wealthy landowner and vine grower in Saumur. The locals speculate enviously on the extent of his wealth and wonder who will marry his daughter Eugenie. Grandet imposes a frugal and cheese-paring regime on the whole household, which is run by his faithful servant Big Nanon.
On Eugenie's birthday the house is visited by the Grassis and the Grachots who bring presents. Both families are trying to marry a son into the Grandet family. Suddenly, a dashing young cousin Charles Grandet arrives from Paris.
The Cousin from Paris
Charles is a playboy and a dandy. Eugenie is overwhelmed by his charm and novelty. Grandet receives a letter from his brother Guillaume consigning the boy to his care. The brother is bankrupt and about to commit suicide. Charles wonders why his father has sent him to such a wretched and miserable house.
Provincial Love
Eugenie falls in love with Charles. She and Nanon start to break the frugal house rules to provide Charles with some lunch. Grandet arrives and is outraged by their extravagance. Grandet reveals to Charles the fact of his father's death. He then sells off his wine stock and plans to invest in government bonds. He also devises a scheme to rescue his brother's honour and the family name – but without spending any money.
A Miser's Promises and Lovers' Vows
Grandet pretends he is going to recover his brother's debts and recruits the Grassins to act for him. He then travels secretly at night to sell all his gold. Eugenie reads Charles' goodbye letter to his lover Annettte. She then gives him all the gold coins she has saved.
Grandet makes a lot of money from the sale of his gold. Eugenie and Charles enjoy the innocent birth of their love whilst he prepares to depart for the Indes. Grandet buys up all of Charles's gold and arranges legal papers that renounce any claims Charles has on his father's estate. Grandet then delays payments of his brother's debts for the next five years.
Family Sorrows
Grandet discovers that Eugenie has given all her gold to Charles. He imprisons her in her room, and her mother becomes ill with the worry. The town's people get to know and disapprove of Grandet. The lawyer Gruchot intercedes to point out that if Mme Grandet dies, Eugenie will inherit all her estate, depleting Grandet's capital and property. Because of this, Grandet lifts his ban on Eugenie, but it is too late to save Mme Grandet, who dies. Grandet then cheats Eugenie out of her inheritance.
For the next five years Grandet instructs Eugenie on the running of his estates, then he too dies. As a result, Eugenie inherits seventeen million Francs, from which she pays Nanon a generous annuity. Nanon marries the gamekeeper, who becomes steward for the whole Grandet estates.
The Way of the World
For seven years Eugenie simply endures her fate. But Charles meanwhile has been a slave trader and an unscrupulous trader in the Indes. He has made his fortune, and is planning a loveless marriage into the fallen aristocracy in order to acquire a name and status. Eugenie receives his letter of dismissal from Paris and is devastated.
With her hopes crushed, she contracts an unconsummated marriage to the President de Bonfons. When he dies shortly afterwards, she becomes a widow at thirty-three, and the heiress to an even greater fortune. She devotes her life to charitable works, and goes on living a frugal life in the house of her father.
---
Eugenie Grandet – prinipal characters
| | |
| --- | --- |
| Felix Grandet | a wine-grower, land-owner, miser, dealer in currency and government stocks |
| Mme Grandet | his timid and long-suffering wife |
| Eugenie Grandet | his innocent and virtuous daughter |
| Guillaume Grandet | his brother, who becomes bankrupt and commits suicide |
| Charles Grandet | Eugenie's dashing and handsome cousin, with whom she falls in love |
| Big Nanon | the tall and strong household servant |
| Mr Conoillier | the gamekeeper who becomes the estate steward |
| President de Bonfons | suitor to Eugenie, who she eventually marries |
© Roy Johnson 2017
---
More on literature
More on the novella
More on literary studies
More on short stories
---