advanced study and research skills as simple notes
Once you've got your first degree, it's often assumed that you will know exactly what to do in any post-graduate research work. That's not usually true, and books like Excellent Dissertations! are helping to rectify the deficiency. Peter Levin's approach is to break everything down into the simplest possible units. The most important characteristic of this book is that it is short and gets straight to the point. He offers useful checklists of what examiners are looking for in the successful dissertation.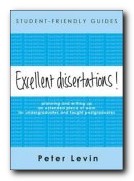 These are likely to be the same, no matter what your subject – clear methodology, firm structure, and attention to detail. In my experience, most people writing long projects and dissertations find all these quite hard to produce. That's why this sort of advice is useful. He helps you to make the distinction between a project and a dissertation, between the research and the writing up of results. He shows you how to explore the existing literature on your subject – which is different than writing a literature review – often another popular writing task in HE, This is dealt with separately in some detail in a chapter of its own.
There's advice on how to compile a list of sources accurately, and he gives you useful tips such as starting to create your bibliography right from the start.
writing a literature review when you aren't yet on top of your material is one of the most mind-numbing, brain-deadening, sleep-inducing activities known to students
There's a separate chapter on methodology, which can be anything from a technique, a procedure, a hypothesis, to a philosophic argument. And if you are stuck for ideas, he shows you how to choose a subject or topic for the dissertation – with examples.
He looks at the management of the project in terms of your time – how to plan, what do first, how to keep going when things get rough.
At the end of the book – and I think this is the right place for it – there is advice on planning your project outline, editing your drafts, and conforming to the academic styles of referencing and producing bibliographies.
My only criticism of this guide is that it needs lists of further reading, web references, and an index. Maybe these can be added if there's a second edition.
© Roy Johnson 2005

  Buy the book at Amazon UK

  Buy the book at Amazon US
---
Peter Levin, Excellent Dissertations!, Maidenhead: Open University Press, 2005, pp.122, ISBN: 0335218229
---
More on study skills
More on writing skills
More on online learning
---