complete guide to social networking
Facebook is flavour of the year in social networking terms right now. It didn't start until 2004, and it already boasts a billion subscribers, with a user base which is claimed to be slightly more adult than that of My Space. But when you've posted all those snaps of yourself getting drunk at the parties – did you know that it's quite difficult to take them down again just before that vital job interview? If you're going to use Facebook and take it seriously, you need a guidance manual, and there hasn't been one – until now. Facebook: the missing manual takes you through the whole process, step by step, from registering and creating your profile to joining networks and finding friends. And every one of those steps is spelled out in a commendably clear manner.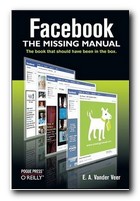 Author Emily Veer also reminds you at every stage that the attraction of being able to see the private details of other people's lives means conversely that they can see yours. You should therefore think carefully about the information you make public.
Once you've made or located your friends, there's a number of different ways of contacting them which are more subtle than a simple email message. You can 'poke' people (nudge them), 'write on walls' (make public statements inviting a response), and even send gifts. News feeds and blogs are built into the system, and you can participate in 'groups'.
These groups can be based on a shared interest or hobby (physical astronomy or knitting) something you have in common (your old school), or even the locality where you live. Interestingly however, you are only allowed to join one group based on geographical location – so tough luck for second home owners.
Those are the main Facebook elements: next come the extensions to these basic functions. There's a system of listing social (real world) events where you can arrange to meet friends. Then there's a market place where you can place ads (which Facebook calls 'listings') so you can sell unwanted items (as on eBay) or buy from other people – all the while checking their credentials via what they post about themselves.
There's also a system for job-finding and hiring people, or you can use Facebook's bulletin boards and 'notes' feature to work on collaborative projects. And as on many other popular software systems, there are now free add-on applications (widgets and plug-ins) which can add functionality to the basic set-up.
The last section of the book returns, very responsibly, to the issue of privacy. Apart from showing you how to configure the advanced settings of your account, Veer recommends applying a simple rule: 'Don't put anything on view which you wouldn't want your mother or your boss to know about you." And remember that although at the time of writing Facebook is going through a re-design, it's still very difficult to remove anything, once it's up there.

  Buy the book at Amazon UK

  Buy the book at Amazon US
© Roy Johnson 2010
---
E.A. Vander Veer, Facebook: the missing manual, Sebastopol (CA): O'Reilly, 2nd edition 2010, pp.272, ISBN: 144938014X
---
More on publishing
More on journalism
More on creative writing
More on writing skills
---