annotated bibliography of criticism and comment
Franz Kafka criticism is a bibliography of critical comment on Franz Kafka and his works, with details of each publication and a brief description of its contents. The details include active web links to Amazon where you can buy the books, often in a variety of formats – new, used, and as Kindle eBooks. The listings are arranged in alphabetical order of author.
The list includes new books and older publications which may now be considered rare. It also includes print-on-demand or Kindle versions of older texts which are much cheaper than the original. Others (including some new books) are often sold off at rock bottom prices. Whilst compiling these listings I bought a copy of Ronald Hayman's study Kafka: A Biography for >one penny.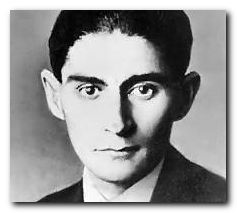 Franz Kafka (Overlook Illustrated Lives) – Jeremy Adler, London: Gerald Duckworth, 2004. A richly illustrated biography and introduction, with charming period photos of Kafka and Prague.
Kafka's Clothes: Ornament and Aestheticism in the Hapsburg Fin de Siecle – Mark M. Anderson, Oxford University Press, 1995. A rich and subtle study that sets new standards for historical and textual interpretation of Kafka.
The Tremendous World I have Inside my Head – Louis Begley, Atlas Illustrated editions, 2008. A biographical essay that opens a window on a tormented soul – Begley treads carefully between the facts of Kafka's life, the events of his fiction, and psychoanalysis.
Franz Kafka: Modern Critical Essays – Harold Bloom, New York: Chelsea House Publishers, 2003. Useful to students doing serious research, particularly as a starting point in thinking about interpretations and finding critical sources.
Kafka: Gender, Class, and Race in the Letters and Fictions – Elizabeth Boa, Oxford University Press, 1996. This study relates Kafka's alienating images of the male body and fascinated disgust of female sexuality to the culture of militaristic, racist, gender, and class ideologies.
Franz Kafka: A Biography – Max Brod, Da Capo Press, 1995. This was the first critical biography, written by his friend and literary executor.
The Diaries of Franz Kafka – Max Brod (ed), Schocken Books, 1988. These contain biographical details with early ideas and preliminary drafts for his stories and philosophic reflections.
Kafka's Other Trial: The Letters to Felice – Elias Canetti, Schocken Books, 1989. This is a biographical and critical essay which considers the parallels between Kafka's doomed love affair and its reflections in his work.
Kafka – Pietro Citali, Martin Secker & Warburg, 1990. An exploration and recreation of the life of Kafka, not so much its daily events, but rather what went on in his mind.
Lambent Traces: Franz Kafka – Stanley Corngold, Princeton University Press, 2009. A masterful explication of Kafka's writing on the experience of ecstasy and transcendence.
Kafka: Toward a Minor Literature – Gilles Deleuze, University of Minnesota Press, 1986. Controversial study of language, meaning, and close reading by leading French metaphysical philosopher
Kafka and Dostoyevsky: The Shaping of Influence – W.J. Dodd (ed), London: Palgrave Macmillan, 1992. A critical study which evaluates the importance of Dostoyevsky's life and imaginative fiction as a stimulus to Kafka's own writing.
Kafka and Photography – Carolin Duttlinger, Oxford: Oxford University Press, 2007. This study explores photography's recurrence as a theme within Kafka's texts and takes systematic account of his use of photographs as literary source material.
The Kafka Debate: New Perspectives for Our Time – Angel Flores (ed), New York: Gordian Press, 1977. A collection of individual studies of the key texts and themes.
Franz Kafka: The Poet of Shame and Guilt – Saul Friedlander, Yale University Press, 2013. Investigates some of the sources of Kafka's personal anguish and its complex reflections in his imaginary world.
Franz Kafka (Critical Lives) – Sander Gilman, Reaktion Books, 2007. This is a short biography and critical overview of Franz Kafka, with an emphasis on the relationship between his life and works as read through his culture and his understanding of his own body.
Franz Kafka: The Jewish Patient – Sander Gilman, London: Routledge, 1995. This is the first book about Kafka that uses the writer's medical records to explore the relation of the body to cultural myths.
A Franz Kafka Encyclopedia – Richard T. Gray (ed), Greenwood Press, 2005. This encyclopedia includes more than 800 alphabetically arranged entries on his works, characters, family members and acquaintances, themes, and other topics. Most of the entries cite works for further reading.
Kafka: A Collection of Critical Essays – Ronald Gray, New York: Prentice Hall, 1962. A collection of critical essays by a variety of Kafka specialists, designed for students and general readers.
Excavating Kafka – James Hawes, Quercus Publishing, 2010. Debunks a number of key facets of the Kafka-Myth, including the idea that Kafka was the archetypal genius neglected in his lifetime.
A Biography of Kafka – Ronald Hayman, London: Weidenfeld & Nicolson, 2001. A scholarly but very readable biography by celebrated Kafka critic and translator.
Introducing Kafka – David Zane Mairowitz, Icon Books, 2007. A beginner's guide to the life and work – with illustrations by comic artist Robert Crumb.
Nightmare of Reason: A Life of Franz Kafka – Ernst Pawel, Harvill Press, 1984. A highly regarded biography which is based on scholarship but written in an attractive and engaging style.
The Cambridge Companion to Kafka – Julian Preece (ed), Cambridge University Press, 2002. A compendium of critical essays covering all the key texts, which discuss Kafka's writing in contexts such as feminism, deconstruction, psycho-analysis, Marxism, Jewish studies, popular culture, and film.
Kafka: A Very Short Introduction – Ritchie Robertson, Oxford University Press, 2004. Explores the main themes in his work and compares his thinking to that of other great writers like Nietzsche, Kirkegaard, Schopenhauer, Weber and Freud.
Kafka: Judaism, Politics, and Literature – Ritchie Robertson, Oxford University Press, 1991. This is a general study of Kafka, which explores the literary and historical context of his writings, and links them with his emergent sense of Jewish identity.
A Companion to the Works of Franz Kafka – James Rolleston (ed), Camden House, 2006. A collection of essays by Kafka specialists that represents a full range of methodological and thematic diversity.
The Myth of Power and the Self: Essays on Franz Kafka – Walter H. Sokel, Wayne State University Press, 2001. A collection of essays published in English for the first time place Kafka's writings in a very large cultural context by fusing Freudian and Expressionist perspectives and incorporating more theoretical approaches – linguistic theory, Gnosticism, and aspects of Derrida.
Franz Kafka: Narration, Rhetoric, and Reading – Ronald Spiers, and Beatrice Sandberg, , Ohio State University Press, 2011. Presents essays by noted Kafka critics and by leading narratologists who explore Kafka's original and innovative uses of narrative throughout his career.
Franz Kafka (Writers and Their Work) – Michael Wood, Northcote House Publishers, 1998. Close readings of individual works, and attention to Kafka's Austro-Hungarian historical context.
© Roy Johnson 2015
---
More on Franz Kafka
More on the novella
More on literary studies
More on short stories
---