a selection of web-based archives and resources
This short selection of Franz Kafka web links offers quick connections to resources for further study. It's not comprehensive, and if you have any ideas for additional resources, please use the 'Comments' box below to make suggestions.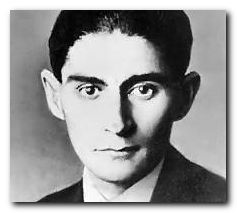 Franz Kafka at Mantex
Biographical notes, book reviews and study guides on the major works, video presentations and documentaries, adaptations for cinema and television, and links to Kafka archives.

Franz Kafka at Project Gutenberg
A major collection of free eTexts in a variety of formats – in both English and German.

Franz Kafka at Wikipedia
Biographical notes, social background, survey of the stories and novels, publishing history, translations, critical interpretation, and extensive bibliographies.

Franz Kafka at the Internet Movie Database
Adaptations for the cinema and television – in various languages. Full details of directors, actors, production features, box office, film reviews, and even quizzes.

Kafka in Love
Video photomontage featuring portraits of Kafka, his friends and family, and locations in Prague – with a rather schmaltzy soundtrack in Yiddish and English.

Kafka-Metamorphosis
A public Wiki dedicated to Kafka and his work, featuring the short stories, interpretations, and further web links.

Kafka Society of America
Academic group with annual meetings and publications. Also features links to other Kafka-related sites

Oxford Kafka Research Centre
Academic group based at Oxford University that tracks current research and meetings. [Doesn't seem to have been updated since 2012.]

The Kafka Project
Critical editions and translations of Kafka's work in several languages, plus articles, literary criticism, bibliographies.

Tribute to Franz Kafka
Individual fan site (created by 'Herzogbr') featuring a collection of texts, reviews, and enthusiast essays. Badly in need of updating, but contains some interesting gems.

Finding Kafka in Prague
Quirky compilation of photos locating Kafka in his home town – with surrealist additions and weird sound track.

Who Owns Kafka?
Essay by Judith Butler from the London Review of Books on the contentious issues of ownership of Kafka's manuscripts where they are currently held in Israel – complete with podcast.

The Kafka Archive – latest news
Guardian newspaper report on the suitcase full of Kafka and Max Brod's papers released by Israeli library.

Franz Kafka: an illustrated life
Book review of a charming short biography with some unusual period photos of Kafka and Prague.
---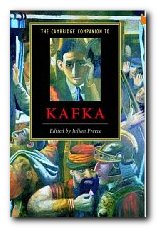 The Cambridge Companion to Kafka
This collection of essays offers a comprehensive account of Kafka's life and work, providing a rounded contemporary appraisal of Central Europe's most distinctive Modernist. Contributions cover all the key texts, and discuss Kafka's writing in a variety of critical contexts such as feminism, deconstruction, psycho-analysis, Marxism, and Jewish studies. Other chapters discuss his impact on popular culture and film. The essays are well supported by supplementary material including a chronology of the period and detailed guides to further reading, and will be of interest to students of Comparative Literature.
© Roy Johnson 2010
---
More on Franz Kafka
More on the novella
More on literary studies
More on short stories
---