presentation skills for lectures, demonstrations, and talks
This book will show you what's required in giving presentations. That means how to plan and structure the presentation; how to choose and prepare good visual aids; and how to deliver your presentation with confidence, either individually or as part of a team. The contents of Jo Billingham's book are arranged in the logical manner you need if your presentation is to be successful. First prepare and structure what you are going to say; then choose your visual aids and arrange them in an effective manner.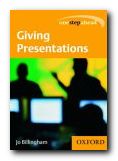 Next, you need to make notes and rehearse what you are going to deliver. Even if you do this in a room on your own it's better than being unprepared. The presentation itself is explored completely. What happens if something goes wrong? How do you make maximum impact? What do we do about being nervous? How to dress – up or down? There is plenty of good advice on coping with all these problems. Oxford University Press have just brought out a series of short beginners' guides on communication skills. The emphasis is on compact, no-nonsense advice directly related to issues of everyday life.
Given the controversy surrounding the much-used and some would say over-used market-leading software PowerPoint, it's good that she discusses the disadvantages as well as the advantages of using it.
The chapters of these guides are short and to-the-point; but the pages are rich in hints, tips, and quotes in call-out boxes. The strength of this approach is that it avoids the encyclopedic volume of advice which in some manuals can be quite overbearing.
There are lots of tips on the use of visual aids – one of the potential nightmares when doing presentations – and she offers a very useful checklist of things to do.
When I last gave a presentation using a computer and a data projector, the system packed up after five minutes. "Thank goodness for the humble overhead projector" I confidently declared – whereupon the bulb in the OHP blew up. The moral is – be prepared. Be doubly prepared.
© Roy Johnson 2005

  Buy the book at Amazon UK

  Buy the book at Amazon US
---
Jo Billingham, Giving Presentations, Oxford: Oxford University Press, 2003, pp.144, ISBN: 0198606818
---
More on study skills
More on writing skills
More on online learning
---