reference guide and essays on ideas for further reading
Do you like reading good quality fiction – but you're not sure what to read next? Good Fiction Guide is designed for you. It's combination of short essays describing popular literary genres and topics, with lists of suggested reading. It then adds potted biographies of writers, with tips on which of their works are most approachable. The general idea is to lead you onto any number of recommendations for 'further reading', all of which will be of good quality.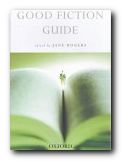 This is because they are by classic writers – Balzac, Dickens, Turgenev, Woolf – or because their contemporary writing is of a literary kind – Salman Rushdie, Angela Carter, Julian Barnes. So it's a good mixture of the traditional and the new. The book begins with thirty-four articles on a mixture of genres – short story, fantasy – place – France, Canada – and topics such as 'war', 'humour', and 'the sea'. These are written by enthusiasts who range from academics to popular writers, and each one includes their top twelve recommended titles.
The bulk of the book is taken up with over a thousand thumbnail sketches of writers and their best-known work. Clive James cheek by jowl with Henry James and Thomas Hardy followed by Robert Harris.
The emphasis is firmly on modern and contemporary literature, and I suspect that despite the introductory essays, most readers will find the biographies the ideal ground for browsing and picking up ideas for further reading. They also make this compilation a reasonable quick reference book for those concerned with modern literature.
© Roy Johnson 2005

  Buy the book at Amazon UK

  Buy the book at Amazon US
---
Good Fiction Guide, (ed Jane Rogers) Oxford: Oxford University Press, 2nd edition 2005, pp.548, ISBN: 0192806475
---
More on literature
More on the novella
More on literary studies
More on short stories
---