tutorial, characters, study resources, further reading
Great Expectations (1860-61) traces the adventures and moral development of the young hero Pip as he rises from humble beginnings in a village blacksmith's. Eventually, via good connections and a secret benefactor, he becomes a gentleman in fashionable London – but loses his way morally in the process and disowns his family. Fortunately he is surrounded by good and loyal friends who help him to redeem himself. Plenty of drama is provided by a spectacular fire, a strange quasi-sexual attack, and the chase of an escaped convict on the river Thames. There are a number of strange psycho-sexual features to the characters and events, and the novel has two subtly different endings – both adding ambiguity to the love interest between Pip and the beautiful Stella.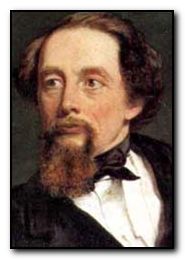 Charles Dickens
Charles Dickens (1812-1870) is a novelist whose work appeals to both general readers and serious literary critics alike. This is because at its best it operates at two levels simultaneously. Entertaining incidents and characters abound at the surface level, and deep beneath them exist profoundly serious themes and psychological insights into human nature. His early novels are rich in enjoyable knockabout entertainment, and his later works explore the darker side of moral and social issues with which he was so concerned throughout the whole of his working life.
Turn to any work in his huge output, and you will find linguistic invention, tremendous imaginative flair, memorable characters, vivid scene-painting, dramatic incidents, high comedy and tragic pathos packed into alternate chapters, and an overwhelming sense of joie de vivre.
---
Great Expectations – plot summary
On Christmas Eve of 1812, Pip, an orphan aged 7, encounters an escaped convict in the village churchyard. The convict scares Pip into stealing food for him and a file to grind away his leg shackles. Pip returns home, where he lives with Mrs. Joe, his older sister, and her husband Joe Gargery. His sister beats him and Joe regularly, while Joe is much more kind to Pip. Early next morning, Pip steals food and drink from the pantry (including a pie for their Christmas feast) and sneaks out to the graveyard.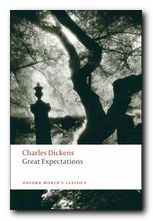 During Christmas dinner, whilst Pip is scared that someone will notice the missing pie. Police officers arrive and hunt through the marshes outside the village for escaped convicts. They accost the man helped by Pip, but when questioned about where he got the food and file, he claims he stole the items himself. The police take him off to the Hulk, a giant prison ship.
Pip goes to school and becomes friends with Biddy, an orphan who was adopted by the Wopsles. He still feels guilty for the theft. Pip's Uncle Pumblechook gets Pip invited to the house of a rich old woman named Miss Havisham, who lives at Satis House. She is a spinster who wears an old wedding dress and hasn't seen sunlight in years. She claims to have a broken heart and just wants to see Pip play cards with Estella, a young girl she has adopted.
Pip frequently visits Miss Havisham and Estella, for whom he harbours a feeling of obsessive attraction. He begins to learn everything he can from Biddy in school, in an effort to impress Estella who called him a common labouring boy. One day, when Pip goes to the town pub to pick up Joe, they are approached by a messenger sent by Pip's convict, who gives Pip two pounds before leaving.
Pip visits Miss Havisham where he meets the Pockets, her relatives who only visit her to insure their inheritance. Pip fights a pale boy in the courtyard and easily beats him. Estella allows Pip to kiss her on the cheek and he leaves. Several months later, Miss Havisham crushes Pip's dream of becoming a gentleman when she agrees to help with the papers that would make Pip's apprenticeship to Joe official. Joe comes to the house and Pip is embarrassed by his common appearance and talk.
Pip works with Joe for a few years in the forge, doing work that he hates. He and Joe work with a journeyman named Dolge Orlick, who dislikes Pip. Wen Pip next visits Satis House, he discovers that Estella has been sent abroad for schooling. On his way home that night, Pip sees Orlick sneaking away in shadows, and discovers that Mrs. Joe had been attacked. She becomes a horribly brain-damaged invalid. Pip feels guilty again when the police believe escaped criminals attacked Mrs. Joe.
Biddy moves in with the Gargerys and Pip confides in her about his feelings for Estella. A London lawyer, Jaggers, approaches Pip, revealing very startling news: Pip has inherited a large sum of money from an anonymous benefactor. He is required to leave for London immediately, buy some clothes and become a gentleman. Pip, because he has always wanted to become a gentleman, graciously accepts these terms. He is confident that Miss Havisham is the secret benefactor.
In London, Pip meets Jagger's clerk Wemmick and Herbert Pocket, a poor gentleman who wants to become a merchant. Herbert tells Pip the story of how Miss Havisham was engaged to a man below her social standing. The man convinced her to buy her half-brother's share of the family brewery for him. Herbert believes that the half-brother and the fiance were co-conspirators who decided to split the profits. On the wedding day, she received a note from her fiance saying he won't marry her and she never tried to marry again.
One stormy night, Pip learns the true identity of his benefactor – Magwitch, the convict Pip helped feed in the churchyard. The news of his benefactor crushes Pip – he's ashamed of Magwitch. Pip very reluctantly lets Magwitch stay with him. There is a warrant out for Magwitch's arrest in England and he'll be hanged if he's caught. Eventually, because Magwitch is on the run from the law, a plan is hatched by Herbert and Pip which involves fleeing the country by boat.
Meanwhile, Estella has married Bentley Drummle, a marriage that will be an unhappy one. Before Pip flees with Magwitch, he makes one last visit to Miss Havisham. Miss Havisham realizes that she created a monster out of Estella, who broke Pip's heart, and asks him for forgiveness. Miss Havisham stands too close to the fire and lights her dress on fire. Pip heroically saves her but she later dies from her injuries.
Pip and Herbert make a gallant attempt to help Magwitch escape, but instead he's captured and sent to jail. Pip is devoted to Magwitch by now and recognizes in him a good and noble man. Pip tries to have Magwitch released but Magwitch dies shortly before he's slated to be executed. Under English law Magwitch's wealth forfeits to the Crown, thus extinguishing Pip's "Great Expectations".
After an extended period of sickness during which he is looked after by Joe, he returns to good health and returns home to ask Biddy for forgiveness and for her love. However, when he arrives, he finds that it is Biddy and Joe's wedding day. Thankful for not mentioning his interest in Biddy to Joe while he was sick, Pip congratulates the happy couple. Afterwards, Pip goes into business overseas with Herbert.
After eleven relatively successful years abroad, Pip goes back to visit Joe and the rest of his family out in the marshes. Finally, Pip makes one last visit to the ruins of Miss Havisham's house, where he finds Estella wandering. Her marriage is over, and she seems to have children and wants Pip to accept her as a friend. Dickens gave the novel two different endings, but in both of them there is an ambiguous notion of what the future will hold for Pip and Estella.
---
Study resources

Great Expectations – Oxford World's Classics – Amazon UK

Great Expectations – Oxford World's Classics – Amazon US

Great Expectations – Wordsworth Classics – Amazon UK

Great Expectations – Wordsworth Classics – Amazon US

Great Expectations – Everyman's Library Classics – Amazon UK

Great Expectations – Everyman's Library Classics – Amazon US

Great Expectations – York Notes (Advanced) – Amazon UK

Great Expectations – Cliffs Notes – Amazon UK

Charles Dickens – biographical notes

Great Expectations – eBook at Project Gutenberg

Great Expectations – audioBook at LibriVox

The Cambridge Companion to Charles Dickens – Amazon UK

Great Expectations – York Notes at Amazon UK

Great Expectations – David Lean's 1946 film version – Amazon UK

Great Expectations – Naxos audio book (unabridged) – Amazon UK

Charles Dickens' London – interactive map

Oxford Reader's Companion to Charles Dickens – Amazon UK

Great Expectations – 1885 illustrations by Frederick William Pallthorpe
---

Mont Blanc – Charles Dickens special edition
---
Principal characters
| | |
| --- | --- |
| Philip Pirrip | an orphan – the protangonist |
| Mrs Joe Gargery | Pip's cantankerous elder sister |
| Joe Gargery | a loyal and mild-mannered blacksmith |
| Dolge Orlick | a sullen journeyman blacksmith at the forge |
| Mr Pumblechook | Joe Gargery's uncle – a pompous fraud |
| Miss Havisham | a wealthy and embittered spinster |
| Estella Havisham | Miss Havisham's adopted daughter (actually Magwitch's daughter) |
| Arthur Havisham | Miss Havisham's half-brother |
| Matthew Pocket | cousin of Miss Havisham – a tutor with large family |
| Herbert Pocket | his son, who befriends Pip in London |
| Abel Magwitch | an escaped convict – Pip's benefactor |
| Biddy | orphan and teacher who loves Pip but marries Joe |
| Mr Jaggers | prominent London lawyer |
| Molly | Jaggers' maidservant (and Estella's mother) |
| Wemmick | clerk to Jaggers |
| Compeyson | professional swindler and ex-convict |
| Bently Drummle | wealthy young man who marries Estella |
---
Great Expectations – film version
David Lean's 1946 classic film adaptation

See
reviews of the film
at the Internet Movie Database
---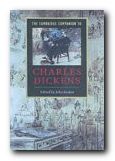 The Cambridge Companion to Charles Dickens contains fourteen essays which cover the whole range of Dickens's writing, from Sketches by Boz through to The Mystery of Edwin Drood. Some address important thematic topics: childhood, the city, and domestic ideology. Others consider the serial publication and Dickens's distinctive use of language. Three final chapters examine Dickens in relation to work in other media: illustration, theatre, and film. The volume as a whole offers a valuable introduction to Dickens for students and general readers, as well as fresh insights, informed by recent critical theory.
---
Further reading
Biography

Peter Ackroyd, Dickens, London: Mandarin, 1991.

John Forster, The Life of Charles Dickens, Forgotten Books, 2009.

Edgar Johnson, Charles Dickens: His Tragedy and Triumph, Little Brown, 1952.

Fred Kaplan, Dickens: A Biography, Johns Hopkins University Press, 1998.

Frederick G. Kitton, The Life of Charles Dickens: His Life, Writings and Personality, Lexden Publishing Limited, 2004.

Michael Slater, Charles Dickens, Yale University Press, 2009.
Criticism

G.H. Ford, Dickens and His Readers, Norton, 1965.

P.A.W. Collins, Dickens and Crime, London: Palgrave, 1995.

Philip Collins (ed), Dickens: The Critical Heritage, London: Routledge, 1982.

Jenny Hartley, Charles Dickens and the House of Fallen Women, London: Methuen, 2009.

Andrew Sanders, Authors in Context: Charles Dickens, Oxford University Press, 2009.

Jeremy Tambling, Going Astray: Dickens and London, London: Longman, 2008.

Donald Hawes, Who's Who in Dickens, London: Routledge, 2001.
---
Other works by Charles Dickens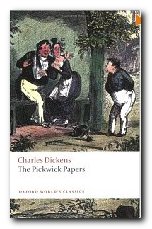 Pickwick Papers (1836-37) was Dickens' first big success. It was issued in twenty monthly parts and is not so much a novel as a series of loosely linked sketches and changing characters featured in reports to the Pickwick Club. These recount comic excursions to Rochester, Dingley Dell, and Bath; duels and elopements; Christmas festivities; Mr Pickwick inadvertently entering the bedroom of a middle-aged lady at night; and in the end a happy marriage. Much light-hearted fun, and a host of memorable characters.

Buy the book here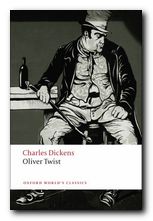 Oliver Twist (1837-38) expresses Dickens' sense of the vulnerability of children. Oliver is a foundling, raised in a workhouse, who escapes suffering by running off to London. There he falls into the hands of a gang of thieves controlled by the infamous Fagin. He is pursued by the sinister figure of Monks who has secret information about him. The plot centres on the twin issues of personal identity and a secret inheritance (which surface again in Great Expectations). Emigration, prison, and violent death punctuate a cascade of dramatic events. This is the early Victorian novel in fine melodramatic form. Recommended for beginners to Dickens.

Buy the book here
---
Charles Dickens – web links

Charles Dickens at Mantex
Biographical notes, book reviews, tutorials and study guides, free eTexts, videos, adaptations for cinema and television, further web links.

Charles Dickens at Wikipedia
Biography, major works, literary techniques, his influence and legacy, extensive bibliography, and further web links.

Charles Dickens at Gutenberg
A major collection of free eTexts of the major works in a variety of formats.

Dickens on the Web
Major jumpstation including plots and characters from the novels, illustrations, Dickens on film and in the theatre, maps, bibliographies, and links to other Dickens sites.

The Dickens Page
Chronology, eTexts available, maps, filmography, letters, speeches, biographies, criticism, and a hyper-concordance.

Charles Dickens at the Internet Movie Database
Adaptations of the major novels and stories for the cinema and television – in various languages

A Charles Dickens Journal
An old HTML website with detailed year-by-year (and sometimes day-by-day) chronology of events, plus pictures.

Hyper-Concordance to Dickens
Locate any word or phrase in the major works – find that quotation or saying, in its original context.

Dickens at the Victorian Web
Biography, political and social history, themes, settings, book reviews, articles, essays, bibliographies, and related study resources.

Charles Dickens – Gad's Hill Place
Something of an amateur fan site with 'fun' items such as quotes, greetings cards, quizzes, and even a crossword puzzle.
© Roy Johnson 2010
---
More on Charles Dickens
More on literature
More on the novella
More on literary studies
More on short stories
---