the art of architecture in an age of ecology
This is a general exploration of one of the most complex and important issues of today – how to construct a human habitat in harmony with nature. The chapters in Green Architecture include a review of twentieth-century green architecture, a review of eco-oriented shelter from Neolithic times to the present, and a survey of those practising architects who are currently seeking to change the relationship between buildings and the environment.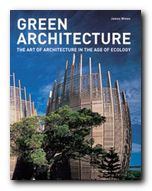 James Wines knows his subject inside-out, and he is as committed to the idea of socially responsible architecture as his parallels in product design – Viktor Papanek and Donald Norman. Like them he refuses to be taken in by design which looks good, but which doesn't work. In fact his study is something of a critique of much modern architecture, with its modish adherence to 'vast expanses of plate glass and cantilevered, tilted, or skewed steel trusses'
There's a marvelous chapter on buildings which have been deliberately conceived to blend in with the surrounding terrain – houses which insert themselves into hillsides, with grass roofs and barely detectable doorways.
I was interested to note that he dug out lots of designs from the early twentieth century which we would now call 'futuristic' – concepts for cityscapes crafted in the 1920s by designers such as Chernikhov, Sant' Ella, or even designed and built by people such as Gerrit Rietveld in 1924.
Le Corbusier and his industry-inspired idea of 'the house as a machine for living in' comes for a great deal of justified criticism, and he is happy to quote Le Corbusier's late-in-life mea culpa on the dust jacket: "Life is right, and the architect is wrong".
His heroes are Frank Lloyd Right, Lewis Mumford, and Rachel Carson – all supporters of ecology long before the term became fashionable.
He's also a great fan of the natural buildings fashioned from mud and home-made bricks which we admire in Africa and the middle East. Yet he's not a dewy-eyed sentimentalist, admitting that these places were constructed that way simply because the original builders simply didn't have access to any other materials.
This is a book which was published ahead of its time, and whose day has now come. It's a study of architecture on ecological principles – buildings which blend sympathetically with their environmental context. More than that, they also use materials and focus their design principles on the basis of using as few as possible of the earth's resources.
Don't be misled by the low price. This is a serious study, and a beautifully illustrated production.
© Roy Johnson 2002

Buy the book at Amazon UK

Buy the book at Amazon US
---
James Wines, Green Architecture, London: Taschen, 2000, pp.240, ISBN: 3822863033
---
More on architecture
More on technology
More on design
---