Dictionary-cum-encyclopedia of all things Irish
If you parachuted onto the Emerald Isle, would you know what to do with a griffaun, a mether, or a dolmen ? Did you know that carrageen (Irish moss) can be used as food or as an HIV/AIDS preventative? And where would the taxi driver be taking you if he was going to TCD? Greenspeak is an interesting proposition if you're interested in language, Ireland and its culture, or unusual dictionaries. Its a dictionary-cum-encyclopedia on all matters Irish, and it's a beautifully illustrated.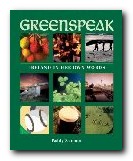 Entries run from 'The Abbey Theatre' and 'absentee landlord' to 'ziggurat' and the fact that there is no letter 'Z' in the Irish alphabet. Did you know that the words yes and no do not occur in the Irish language? Instead, the main verb in the question is repeated – as in 'Did you see her?' – to which the reply is 'I did' or 'I did not'. Some of the terms explained are Irish language pure and simple; others are English words which have a particular or coded meaning in the context of Ireland; others are explanations of Irish history and institutions.
All of them are illustrated by examples drawn from genuinely Irish texts. So for instance, the entry for the apparently innocent-looking expression 'big house' runs as follows:
big house, Big House 1. Anglo-Irish country house, the principal house of the former landed Ascendency and often surrounded by a famine wall. Many were burned down in the 1920s. They feature in books, which became a literary genre, starting with Maria Edgeworth's Castle Rackrent (1800). note: use 'Irish Big House' not 'big Irish house'. Equates with standard English 'manor' or 'stately home'. 2. (Ulster) may refer to mental asylum. 3. (US slang) penitentionary. [1823 (Letters from the Irish Highlands) < teach mor 'big house'] See Baltimore Oriole.
There are over 2,000 entries covering every aspect of Ireland from food to folklore, and poetry to politics. The chronology and etymology of each word is given, and there is an index of people's names, a glossary of abbreviations and acronyms.
There is understandably a recurrent strain of relations with neighbours 'across the water', but plenty of detailed entries on Ireland's indigenous language, art, music, literature, history, personalities, and geography.
I get the impression of a huge labour of love and scholarship on Paddy Sammon's part, and anybody with the slightest interest in Ireland or matters Irish is missing a treat if they don't see this handsomely attractive book.
© Roy Johnson 2002

  Buy the book at Amazon UK

  Buy the book at Amazon US
---
Paddy Sammon, Greenspeak: Ireland in her own words, Dublin: Town House, 2002, pp.240, ISBN: 1860591442
---
More on language
More on literary studies
More on writing skills
More on creative writing
More on grammar
---