handbook, explanation, plot summary, and characters
After nearly 100 years, Marcel Proust's The Remembrance of Things Past remains as formidable a reading task as when it first appeared. Indeed, possibly more so – since it was originally published in single volumes at intervals, which gave contemporary readers a chance to digest its contents slowly. But it now exists in seven volumes totalling 3,200 pages, a million and a half words, and containing more than 400 characters.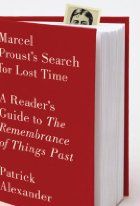 This is not an intellectual journey to be undertaken lightly, and even experienced readers need all the help they can get to deal with a literary construction of this magnitude. Patrick Alexander's guide is an attempt to provide all the assistance that's required. The book is in three parts. The first offers an overview then a summary of what takes place in each of the seven volumes of the novel. Part two is a who's who – thumbnail sketches of the principal characters, what they do, and to whom they are related.
Part three offers a brief account of Proust's life, notes on Paris and the Belle Epoque, and brief essays on French history and the notorious Dreyfus affair in particular.
During the course of his paraphrase, Alexander examines the 'epiphanies' for which Proust is famous; he shows the links between characters and events spanning the whole of the seven volumes which will not be apparent to a first-time reader; and he looks at Proust's techniques of detailed and protracted analysis which, to anyone who has paid close enough attention, are not simply analyses but highly imaginative and extended metaphors which demonstrate his intellectual skill for seeing similarities between apparently disparate objects.
As Alexander points out, Proust's novel is also an amazing cultural encyclopedia. Whilst the narrative explores issues of love, friendship, jealousy, memory and time, it is also packed with cultural references:
His literary references range from Xenophon to (then) contemporary novelists such as Zola; his musical references cover western music from Palestrina to Puccini, and he refers to more than one hundred individual painters from Botticelli to the avant garde Léon Bakst. All of these references are used to express and illustrate startlingly original insights into every aspect of the human condition, from love and sex to religion and death – and all with a freshness and comic sense of the absurd.
It is often observed by those who have read Proust that so powerful are the evocations of place and the recreation of his life experiences, that readers afterwards find it difficult to believe that they are not their own. "Yes – That's exactly how it is!" sums up this sort of reaction, though of course it is his genius to have put it into words in the first place.
And for a writer so renowned for prolixity (even longeurs) what is not so frequently observed is the fact that he is much given to placing pithy aphorisms in his text, deeply embedded in huge paragraphs though they might often be.
This book should appeal to the intelligent 'Common Reader' who wants to undertake the extended literary journey that a reading of Proust presents. And it will be a reliable guide mainly because it was written by exactly such a person, composed as a homage to a writer he had come to love.
© Roy Johnson 2009
---
Patrick Alexander, Marcel Proust's Search for Lost Time: A Reader's Guide to The Remembrance of Things Past, New York: Vintage, 2009, pp.3391, ISBN 0307472329
---
More on Marcel Proust
Twentieth century literature
More on biography
---