glamorous, modern, and fashionable locations
Who would have thought that books on architecture and interior design would suddenly become fashionable. But that's what's happened with this Hip Hotels series, which made a big impact when it first appeared a couple of years ago. What are Hip Hotels? Well, Herbert Ypma defines them as Highly Individual Places, but I think it's a bit more than that – because even traditional hotels can be individual. The selection he shows (and he claims to have stayed in them) are all very modern, usually minimalist, and the emphasis throughout is that they are located in very fashionable parts of the city – even if that means you're in the Meatpacking District.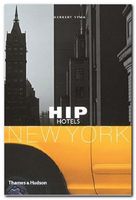 But he covers other parts of the city too. His survey goes from the Lower East to the Upper West Side, with Tribeca, SoHo, Midtown, and Times Square in between. The common features of most examples are dark brown modernist furniture, exposed brick or granite, soft downlighting, stainless steel bathroom fittings, no pictures, decorations, or knickknacks of any kind, a lot of square, black leather chairs and settees, and of course some stupendous views over the city's roofscapes.
You get an eight page spread on each location. It goes almost without saying (these days) that the photography is of superb quality, and there are full contact and location details for each hotel – so you can phone in or log onto their web sites and book a room if you wish.
And it's not just pretty pictures. He's obviously well informed on the practical issues of architecture: he gives details of the planning permission, zoning regulations, and the acquisition of 'air rights' necessary for these largely high-rise buildings. He's also good on the way in which the districts have changed their nature – turning from manufacturing to arts and fashion centres within a couple of generations.
These publications are normally big expensive coffee table books, but for this series they have been reduced in size to a more easily portable format. You lose some of the visual expansiveness of the originals, but Thames and Hudson call it their 'travel format'. I suppose the idea is that you could take them along on your cultural pilgrimage. However, I should warn you, before you get too excited, that most of these places charge $300-plus minimum per night. Buy the book instead. It's twenty-five times cheaper.
© Roy Johnson 2006

Buy the book at Amazon UK

Buy the book at Amazon US
---
Herbert Ypma, Hip Hotels: New York, London: Thames & Hudson, 2006, pp.192, ISBN: 0500286183
---
More on architecture
More on technology
More on design
---