practical guide to building a home network on a budget
Many homes these days have a second or a spare computer; and more people than ever are either working from home or starting their own small businesses. For all of them, setting up a computer network can be the foundation for more efficient working. With links between your equipment, you can keep in touch with people in another room or out on the road. You can share information, keep everything updated from one desk, and share resources. But how would you go about doing it? Well, John Paul Mueller provides the advice and the tools you will need in Home and Small Office Networking his plain-speaking guide to setting up a computer network for small businesses on a budget. His approach is extremely thorough.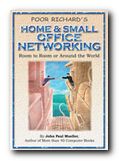 He starts by helping you to define what you might need, how to set up a small office network, and the range of cheap options available. Did you know that it's even possible to use the electrical wiring in your own home as the basis for the network? There's plenty here on cabling, connections, and tips on the best equipment to choose. It might be a technically challenging task – but he takes you through step by step, passing on a lot of first-hand experience on the way.
He also spends quite some time on the software you will need for efficient administration of the system, as well as network security and maintenance. But the part which I suspect will appeal most to a lot of get-up-and-go entrepreneurs are the chapters on remote communications and connections via the Internet. These will allow you to share information and keep in touch with both mobile and home workers.
And he doesn't neglect either the costs or the cost-effectiveness of building such a system. His goal is to help small businesses get the most from networking, and he both looks at the benefits and explains in easy-to-understand language how to design, protect, and maintain your network.
The main point of these books from the very successful Poor Richard series is that they provide the enthusiast, the amateur, and the small business with lots of budget-priced tools for development. They explain what to do in a jargon-free, no-nonsense manner, and they offer lists of free and bargain-level resources. Whether you're in the next room or on the road, this book tells you how to set up an inexpensive network.
© Roy Johnson 2001
---
John Paul Mueller, Poor Richard's Home and Small Office Networking, Lakewood CO: Top Floor, 2001, pp.357, ISBN 1930082037
---
More on technology
More on digital media
More on online learning
More on computers
---