an explanation and guidance notes
House Style is a term used to describe the rules laid down by a business or organisation to regularise the presentation of its written communications and documents. In some cases these rules might be summarised formally in a published Style Guide or Style Manual.
The purpose of codifying what can be written may vary from a desire to control a corporate image (business documents); a need to maintain standards and follow established conventions (academic writing); or a need for accuracy and precision (technical manuals).
Many different types of institutions, businesses, publishers, or public bodies will establish a house style in order to maintain their corporate or brand image.
| | |
| --- | --- |
| International | United Nations, European Union |
| Corporations | Lockheed, General Motors, Microsoft |
| Publications | New York Times, The Economist |
| Institutions | University of London, Department of Transport |
| Retailers | Amazon, Marks and Spencer, IKEA |
The origins of house style lie in the realm of printing, where newspapers and book publishers originally sought to establish guidelines for standardising their productions. The best known of these guides is Hart's Rules, first written at the end of the nineteenth century for the Oxford University Press. In the twenty-first century, house style is also likely to include writing and presentation guidelines for what will appear on computer screens.
There are differences of approach in the rules of these various style guides. This should alert us to the fact that they are not only dealing with matters of fact and correctness – but are offering a series of conventions which should be followed by their authors.
They are likely to have policies governing such matters as
The notes given below provide illustrative examples. For detailed information on any topic, follow the links to the online style guides and the newspaper house style sites. Some of their guides are the size of small encyclopedias.
---
House Style – a real example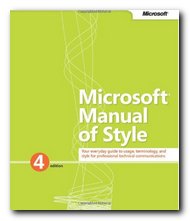 Microsoft's Manual of Style illustrates the company's rules for both print and screen writing, as well as their requirements for visual presentation and language use.
For instance, each topic they discuss is illustrated by an example of 'Microsoft style' and then an example of 'Not Microsoft style'.
They also specify such fine details as how to present numbers; how to choose the names for toolbars and buttons; how to punctuate lists; how to size titles, sub-headings, and paragraph spaces; and where to use quotation marks.
The following is their table of contents for the topics covered in their house style guide – many of them in extremely fine detail.
Microsoft style and voice
Writing for web delivery
Writing for a worldwide audience
Accessibility issues
The user interface
Technical procedures
Practical issues of style
Grammar
Punctuation
Indexing and keywords
Acronyms and abbreviations
---
Style guides might now make distinctions between house style for print and for online purposes – because the two mediums are considered quite distinct, and may have different readerships and purposes.
Reading on a computer screen is more tiring than reading from a printed document. For this reason, style guides for digital use may specify shorter sentences and paragraphs, wider margins, and the inclusion of graphics.
House style manuals very often specify how the various departments and personnel in an organisation should be described. They are also likely to specify such details as the size and spacing of titles, headings, and sub-headings.
---
Spelling
Some words (in English) have more than one spelling. The term judgement can also be spelled judgment. House style rules help to create consistency throughout a document. And consistency is a key principle in creating ease of comprehension.
Newspapers also strive to use consistent spellings for foreign names such as Reykjavik (the capital of Iceland) and Nizhni Novgorod (a port in European Russia).
They are also likely to specify the spelling of names of important people – such as Ban Ki-Moon (Secretary General of the United Nations) and Aung San Suu Kyi (opposition leader in Myanmar – formerly Burma). This shows respect for the person.
American English and British English have minor differences in spelling, so documents aimed at both audiences need to be consistent.
| | |
| --- | --- |
| British | centre, harmonise, travelling |
| American | center, harmonize, traveling |
---
Printed style guides
This is a selection of book reviews featuring style guides published by a variety of organisations.

MLA Style Guide
English – Modern Languages Association – Academic

Microsoft Manual of Style
American – Microsoft Corporation – Business

The Chicago Manual of Style
American – Chicago University – Academic

New Hart's Rules
English – Oxford University Press – Publishing

The Economist Style Guide
English – Economist Magazine – Journalism
---
Note of interest — it is said that the complete printed maintenance manuals for the Boeing 737 jet weighed more than the aircraft itself.
---
Vocabulary
The choice of vocabulary is important because it reflects the nature and the attitude of the organisation. The language you choose needs to be understood by the audience(s). It should be clear, unambiguous, and consistent.
It is now very common for organisations to specify the terms used to describe people with disabilities, ethnic minorities, and issues related to gender.
For instance, the BBC specifies that people with learning disabilities should be used – not mentally handicapped. It specifies Muslim instead of Moslem.
The Guardian newspaper used to prohibit the use of the term regime to describe a government – because the term is clearly derogatory and suggests a bias against a government which might become legitimate in a few week's time.
The Telegraph newspaper has a list of 'banned words' in its house style guide. These are not ideologically taboo words so much as lists of journalistic clichés used in tabloid newspapers – terms such as bloodbath, clampdown, jaw-dropping, and prestigious.
---
Online style guides
BBC News style guide
Detailed guidelines for print, online, plus radio and television broadcasting. Also includes rules on pronunciation and spelling of foreign names.
English Grammar
Comprehensive grammar guide, with downloadable lessons, interactive exercises, grammar checker, videos, and daily updates.
Purdue On-line Writing Lab
Purdue's famous OWL, useful for general writing concerns, with links to American academic style guides and how to avoid plagiarism.
The Elements of Style
William Strunk, Jr.'s original 1918 classic. The 'bare bones' approach to common problems, with illustrative examples.
On-Line Study Resources
Style, grammar, essay-writing, citations and footnotes, plagiarism and presentation from the University of New South Wales.
alt.usage.english – Style FAQ
Mark Israel's Frequently Asked Questions covers common English usage questions, word etymology, online and offline references, and more.
WebGrammar
Judy Vorfeld's excellent site covers some of the most common writing mistakes, including spelling, grammar and homonym errors.
---
Capitalization
The correct use of capital letters is not quite so straightforward as it might seem. It is not always immediately clear if someone, somewhere, or something warrants a capital or not. The following are some of the more common instances.
| | |
| --- | --- |
| days of the week | Wednesday, Friday |
| places | Scotland, East Anglia |
| rivers | the river Mersey |
| buildings | the Tate Gallery |
| institutions | the Catholic Church |
| firms | British Aerospace |
| organisations | the National Trust |
| months of the year | April, September |
However, when such terms are used as adjectives or in a general sense as common nouns, no capital is required:
the King James Bible / a biblical reference
Oxford University / a university education
the present Government / governments since 1967
Capitals are used when describing intellectual movements or periods of history:
Freudian – Platonism – Cartesian – the Middle Ages
the Reformation – the Enlightenment
They are also used in the titles of books, plays, films, newspapers, magazines, songs, and works of art in general. The normal convention is to capitalise the first word and any nouns or important terms. Smaller words such as 'and', 'of', and 'the' are left uncapitalised:
A View from the Bridge
The Mayor of Casterbridge
North by Northwest
The Marriage of Figaro
---
UK journalism style guides

The Guardian

The Economist

Reuters

Associated Press

The Telegraph

Financial Times Lexicon
© Roy Johnson 2014
---
More on publishing
More on journalism
More on creative writing
More on writing skills
---