Readable technological history of Internet and Web
Robert Cailliau's name was on the original research proposal for the World Wide Web, along with Tim Berners-Lee. This is his account of the development, written with James Gilles. They start with a quick history of the Internet, focussing on the key feature of packet-switching which made the Web possible. Part two switches to the European Organisation for Nuclear Research in Geneva. Here the story becomes one of scientists from all over the world who need to share, archive, and retrieve information. CERN had developed its own Intranet, and by the late 1980s had become Europe's biggest Internet site.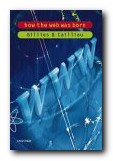 As with most accounts of Internet history, you have to keep up with a complex chronology as the separate stories of each technological strand are developed: the TCP/IP protocols; the development of the PC; and the HCI (human computer interface). Fortunately, all technical terms are explained, and the general reader will be grateful for the appendices which include a timeline, a list of key individuals, a bibliography, an explanation of acronyms, and of course an index.
They include character sketches of all the main figures – Vannevar Bush, Ted Nelson, and Douglas Engelbert, who first thought of Windows, hypertext, and the mouse respectively.
There's an interesting chapter on the rapid rise and fall of the UK computer industry which in the early 1980s was producing the world's highest per-capita ownership of personal computers.
They also include potted histories of hypertext, and the pre-web search software such as Archie, WAIS, and Gopher. People who have used these command-line interfaces are likely to look back and smile fondly.
Finally, after all the preliminaries, everything is set for what was to be the killer application of the Internet – the invention of the World Wide Web.
It's still amazing to think how recent all this has been – only ten years ago – as this second edition of their book is issued on the Web's birthday.
If you want a history of the Web which is more general than Tim Berners-Lee's more personal account in Weaving the Web, this is an excellent alternative.
© Roy Johnson 2002
---
James Gillies and Robert Cailliau, How the Web was Born, Oxford, Oxford University Press, 2000, p.372, ISBN 0192862073
---
More on computers
More on technology
More on digital media
---