skills for locating, evaluating, and recording information
The recent news that Google intends to scan the contents of several research libraries into its database should serve to remind us that not everything is available on the Internet. But good researchers still need to be able to find information from a variety of sources. This book shows you how to do it. Sally Rumsey includes all the most obvious topics concerned with the information gathering process, such as how to use a library, how to identify existing research, and how to use the World Wide Web for locating information.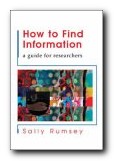 You would expect that from any serious guide of this kind. But she also includes chapters on aspects of research which many people find baffling. These include actually identifying an information need in the first place; citation searching; locating and evaluating resources; citing references; keeping records; and how to keep up to date with the latest trends.
Everything is tackled in a very thorough and methodical manner. If like me you're one of those people who learn from seeing, you'll be glad to know that there are plenty of diagrams, tables, and flow charts to illustrate her suggestions.
So, for instance, the chapter on using a library covers types of libraries, classification systems, and how to search the catalogue using a variety of techniques.
Of course a great deal of attention is devoted to online searching – and quite right too. It includes search terms, Boolean operators [and/or/not] and how to interpret the results.
With the very welcome expansion of online resources however, there is a danger that a lot of people will simply do an Internet search, then give up immediately if they don't find what they are looking for. Serious researchers need to be more persistent.
In fact all information search skills will need to become more sophisticated as time goes on – but we shouldn't forget that for the moment the majority of the world's assembled wisdom resides in the form of what Nicholas Negroponte calls "ink pressed onto dead trees".
I was glad to see a chapter on plagiarism and copyright – though I think at postgraduate research level the niceties of plagiarism warrant spelling out in a lot more detail.
The audience for this book is quite wide – serious undergraduates, all postgraduates, librarians, researchers, and even tutors who have an interest in keeping up to date with information skills.
It's written in a friendly and approachable style and laid out in a user-friendly way, and there's a glossary, a bibliography, an index, and a webliography or whatever we eventually decide to call a list of web addresses.
© Roy Johnson 2008

  Buy the book at Amazon UK

  Buy the book at Amazon US
---
Sally Rumsey, How to Find Information: a guide for researchers, Maidenhead: Open University Press, 2nd edition, 2008, pp.223, ISBN: 0335226310
---
More on study skills
More on writing skills
More on online learning
---