making the most of your time at university
The quick answer to how to get a good degree is of course to graduate with first class honours from a world class university. But such advice is about as reductively simplistic as Paul Getty's ironic formula for getting rich: "Rise early. Work late. Strike oil." Obviously there's a lot more to it than that, and Phil Race's guidelines are based on the realistic supposition that most students need support and guidance throughout the whole of their three years as an undergraduate. It's a supposition that is sadly true more than ever in the current academic climate (in the UK at least). Tutors are under government pressure to produce 'research' (which few people read) and many of their original teaching commitments have been sub-contracted to part-time teachers and postgraduate students.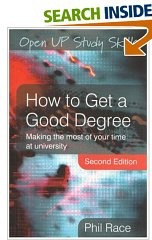 The net result is that students need the skills to support themselves through their coursework and assessments. Race starts off by covering issues such as motivation and self-awareness via a series of checklists in which students make a judgement of their current attitudes – with a view to enhancing them to improve their chances. In this way they can come to understand the basic processes of successful learning.
Students are urged to make an audit of their strengths and develop the skills of effective time-management. This is followed by learning to get more out of lectures, plus the significant differences between taking and making notes.
He also covers the skills required to make profitable use of small group tutorials, seminars, field work, laboratory work, and even work-based learning. There's a whole chapter on learning from feedback on written work, showing students what they can gain in addition to the assessment of quality based on the mark awarded.
Then comes a major section on making the best of 'learning resources'. These can be anything from lecture handouts, student support services, to the library and making intelligent Internet searches.
But the life of a student isn't all intellectual work and enquiry. So he also covers personal aspects of student life – such as where to live, how to cope with a part-time job, and how to develop your computer skills.
Finally, though it might well have come first, he deals with the issue of improving your assessed course work. This includes essay writing skills, making presentations, completing projects, and how to do practical work. He tops this off with revision and examination skills, so by the time you come to the end of the book, just about every conceivable aspect of undergraduate life has been covered.
After that, it's up to any student to apply all this excellent advice. If that's done as thoroughly as it's all been explained, the result should be a good degree.
© Roy Johnson 2007

  Buy the book at Amazon UK

  Buy the book at Amazon US
---
Phil Race, How to Get a Good Degree, Open University Press: Maidenhead, 2nd edn, 2007, pp.272, ISBN: 033522265X
---
More on study skills
More on writing skills
More on online learning
---