research, writing, and information management skills
Nothing can quite prepare you for a PhD. It's likely to be the longest piece of research and writing you ever undertake in your life. How to get a PhD is a guide to the process, and a survival kit for doctoral candidates. The authors are particularly good on the meaning and structure of a PhD, how to develop time management skills, and the difficulties of communicating with supervisors and how to overcome them. Much of this would apply to online PhD students too.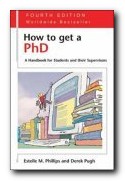 If you are intending to embark on a research degree it will introduce you to the system and help you to improve your choice of university, college, department, and even supervisor. The first part of the book deals with the process of becoming a postgraduate student, how to get into the academic system at this level, and the special demands and exact nature of the PhD qualification. There is then advice on how to do research and a discussion of the structure required in this form of writing.
Phillips and Pugh then pass on to the substance of the task so far as the candidate is concerned – the long slog through three years of reading, writing, note-taking, and data collection.
They cover the special problems of groups such as women, part-time, and adult students, plus the tricky issues of dealing with supervisors and an environment which is based on the deeply entrenched privileges of old, white, Anglo-Saxon males (some of them already dead).
New for this fourth edition is a diagnostic questionnaire for students to monitor their own progress, plus a new section on the increasingly popular professional doctorates such as EdD, DBA, and DEng.
And then suddenly, and rather strangely (though true to its subtitle) the subject of its address changes from student to tutor. They discuss how supervisors can improve the support they give to students – largely by making the effort to see the process from the student's point of view.
As a supervisor myself, I found this section instructively chastening. They offer a number of useful suggestions for making feedback more effective, and then end with notes on the responsibilities which institutions have to provide an adequate overall service for research students.
This is a book which is standing the test of time. First published in the 1980s, new material has been added for the latest (fourth) edition, which now includes information technology, publishing your work, and teaching and working towards a PhD in a practice-based discipline. There are very few guides to help people at this level of academic work. Anyone about to embark on the three year odyssey would do well to read this first – then pass it on to your supervisor.
© Roy Johnson 2010

  Buy the book at Amazon UK

  Buy the book at Amazon US
---
Estelle M. Phillips and Derek S.Pugh, How to get a PhD: A handbook for students and their supervisors, Buckinghamshire: Open University Press, 5th edn, 2010, pp.220, ISBN: 0335242022
---
More on study skills
More on writing skills
More on online learning
---