advice, tips, and templates for humanities PhDs
An academic teaching job is a golden objective, but not an easy goal to achieve. If you've made it through your first degree, then a masters or a PhD, the chances are that you would really like a university teaching post. After all, this would mean a light work load; long holidays; free sabbatical terms; conference trips abroad; you're paid to read and write; and the job carries a little bit of social prestige. It's an attractive proposition. But everyone knows that the number of available posts is shrinking fast, and the competition to secure them is enormous.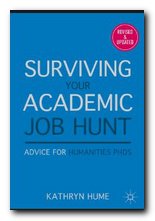 It's increasingly difficult to get your foot even onto the first rung of the ladder. University departments everywhere are packed with young (and not so young) graduate teaching assistants hoping that their few hours of part-time teaching are going to be magically transformed into a full time post.
Kathryn Hume is a professor of English at Penn State University, and she has obviously made a close study of the job application process. This guidance manual is packed with tips to help you succeed or at least survive the many applications you will have to make before you land that appointment.
The American system of application is preliminary (conference) interviews to draw up a shortlist of possible candidates. These are followed by in-depth on-Campus interviews and presentations. UK and European readers can be sure that armed with the suggestions and advice laid out here, they will be well prepared for anything that can be thrown at them.
The first part of the book is concerned with making sure your documentation is in order. You need to present yourself on paper as persuasively as possible – and she explains how maximise your chances of being selected for an interview. There are all sorts of interesting little tips – such as the fact that your curriculum vitae does not need 'Your Name – Curriculum Vitae' as a bold heading – because it is obvious that's what it is, and it will only be looked at along with everybody else's.
The same goes for the interview. She recommends lots of practice – answering questions out loud to yourself or with friends. You should learn how to describe your own thesis in about ninety seconds without using jargon – because you will be speaking to people from other disciplines. And you should even practise wearing your interview clothes beforehand, so that you don't feel uncomfortable. But there's a lot more, thoughtful, and in-depth detail and warnings.
Remove whimsical quotations from the signature in your email. Clean up your online presence. Remove all photos of yourself looking drunk or less than properly clad from Facebook, Flickr, and other such networking sites. Even pictures of you enjoying a beach vacation will suggest that you have not been devoting yourself to serious professional work … committees routinely check out such sites, and deans take seriously any party-animal pictures or blogs that rant (no matter what the subject matter or stance).
Even if you succeed at the interview, it's not all over. Because there's the very delicate yet crucial issue of the job offer. You are in a very vulnerable position – because you want the job. The crucial piece of advice here is – don't accept any offer until it's in writing. The grounds for this argument are that the head of the interview panel might make you a verbal offer, the conditions and salary of which are changed when the head gets back to ratify matters with the budget-holding dean of the faculty.
Whilst searching for a job, you will also need to be converting your dissertation (or preferably thesis) into a book. This too is immeasurably more difficult than it used to be – because of cutbacks in educational funding and the cost of producing academic publications, which are only likely to sell to a small audience. You need to know quite a lot about how specialist and academic presses work to even secure a chance of being considered, let alone published. And – brace yourself! – you may even need to secure funding to generate a 'subsidy' for the publisher.
She even covers the worst case of what do you do if you don't manage to secure a job. The main options are visiting professorship; postdoc work; an appointment in further education or a community college; a non-teaching post in administration or publishing; and the somewhat dangerous option of teaching abroad. It's dangerous because you may never get back.
The advice doesn't stop there. She even continues on the assumption that you manage to secure an untenured appointment, where you will be on probation for quite some time. Here you need to become aware of what she calls 'academic politics'. Her advice is essentially a very cautious 'keep your head down and stay out of trouble' approach – but I enjoyed her accounts of departmental in-fighting and the secret codes and booby-traps of staff meetings.
The book also has a huge set of appendices offering multiple practical examples of CVs, letters of application, thesis descriptions, pedagogic philosophies, teaching portfolios, and evidence of teaching effectiveness. All of these cover a wide range of humanities subjects, including English, Rhetoric, Communication Skills, History, Art History, Comparative Literature, and French.
© Roy Johnson 2011
---
Kathryn Hume, Surviving your Academic Job Hunt: Advice for Humanities PhDs, Hampshire: Palgrave Macmillan, 2nd edition, 2010, pp.227, ISBN: 0230109462
---
More on study skills
More on writing skills
More on online learning
---