Plan and Manage E-learning looks at the practical steps that need to be taken to create E-learning courses and the infrastructure that supports them. It covers all aspects of this process – including planning, course design, materials creation, course delivery, and tutoring. Lewis and Whitlock take a Web-oriented approach to their exposition. Each step is broken down into manageable chunks, and they use a wide range of examples and plenty of checklists to make this a very practical route map in course design.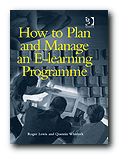 Despite its reliance on technology, E-learning is heavily dependent for its success on personal interaction, and they spend a lot of space offering support for teachers and learners. This is the part of online learning which is often forgotten by people racing to get onto the technological bandwagon. Much of their content is a sensible and practical approach to course planning – every step geared to think carefully about aims and how they are to be achieved. There are lots of checklists of things to take into account when planning, designing, and running a learning program.
They even deal with tricky issues such as online assessment and moderation, as well as the costs of development time, making the materials cost-effective, and cost-recuperation via clever marketing.
This book will be of most use to course designers, heads of department, or training managers who have been given the task of organising learning programs by people who think it's just a matter of transferring information quickly from paper to screen.
© Roy Johnson 2004
---
Roger Lewis and Quentin Whitlock, How to Plan and Manage an E-learning Programme, London: Gower, 2003, pp.185, ISBN 0566084244
---
More on online learning
More on technology
More on digital media
More on web design
More on computers
---