writing, study, and life skills for undergraduates
This is a book of skills and strategies for students facing their last year of undergraduate studies. It covers the problems of writing longer essays, reports, and dissertations, passing exams, and preparing for future employment. A final-year student faces a particular set of challenges. What you do in your final year is critical to your future. You must cope with revision for final exams, as well as completing course-work and sometimes working on extended dissertations or projects. At the same time you need to be taking strategic decisions about your future career. You might also be handling job applications and interviews, or going though the selection process for entry into postgraduate study.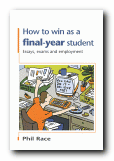 Phil Race has produced a guide which covers all these problems. His basic approach is very practical. The book is packed with checklists, action plans, and self-assessment exercises. All the advice is sensible and realistic, and it is geared to help you work out your best solutions. What I particularly liked was the fact that it recognises the uncertainties of the final year. You often need to plan for two or three different eventualities, depending on the outcome of your exam results. This is very stressful – and Race recognises the fact, then provides solutions for coping.
In the latter part of the book, Race even looks ahead to preparing you for job interviews. How to assemble a curriculum vitae; how to prepare for interviews; and how to get through tests. However, not all final year students want to go into business, so he also covers what should be taken into account if you are contemplating post-graduate research.
This is a good addition to the excellent series of study skills guides from Open University Press. I only wish books like this had been available when I was in my final year.
© Roy Johnson 2005

  Buy the book at Amazon UK

  Buy the book at Amazon US
---
Phil Race, How to win as a final-year student: essays, exams and employment, Buckingham, UK: Open University Press, 2005, pp.181, ISBN: 0335205119
---
More on study skills
More on writing skills
More on online learning
---