working from home – living at work
Work from home – and survive
Lots of people work from home today. If you have a mobile phone, an email address, a broadband connection, and a laptop on your coffee table, nobody knows you're a consultant dog on the Internet. You could be:
starting up your own business
switching from employed to 'homeworking'
creating a job for yourself
downsizing from larger commercial premises
making money from your hobby
Making a start
Working from home can have plenty of advantages – and you can use all of them to make your life easier – and bring everything under your own control..
you don't need to rent expensive offices
you can combine work with home life
you don't have to travel to work
you're your own boss
it's tax deductible
---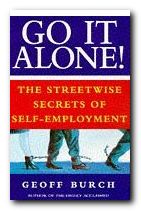 This is a morale-boosting guide for anybody who wants to start their own business, or who harbours deep desires to be their own boss. Geoff Burch takes an entirely practical approach and shows how it can be done – by cutting your costs to a minimum and steering clear of get-rich-quick schemes. It will also be useful for all those folk who are facing early retirement and wondering what to do with themselves. Do your own thing – and walk tall!
Buy the book from Amazon UK
Buy the book from Amazon US
---
A Room of Your Own
Some people can work with very little in the way of equipment. But for most of us, if you're going to be business-like, you'll need a space of your own in which to work. Even if most of your activity is outside the house (working as a hairdresser, surveyor, plasterer, gardener) you need a space in the house which is your own.
The options are usually quite obvious. It could be a spare bedroom, an attic, or even the garage or a garden shed. In smaller spaces it might be one corner of a flat. The important thing is that you establish a space in which to conduct your business.
In his best-selling book on self-employment, Go It Alone! Geoff Burch describes the ultra minimalist approach were you have no office and no equipment at all. But even he agrees that you need to establish your own space – even if this is a psychological space.
Take a professional attitude and carve out a space for whatever you need. Your equipment could be no more than a few box files, a telephone, a computer, or folders full of papers. Keep this space for yourself, and don't let it get mixed up with household matters. Don't try to work off the edge of the kitchen table.
And Geoff Burch has another excellent piece of advice, which I firmly endorse. Don't try to re-create a typical office environment. Why should you be surrounded by ugly metal filing cabinets and cardboard boxes full of rubbish. There are perfectly good storage solutions available at suppliers such as IKEA and Habitat which will visually enhance your environment, as well as being functional.
---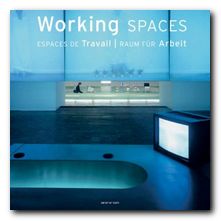 This is visual proof that you don't need to be surrounded by empty cardboard boxes and metal filing cabinets. The examples in this beautifully illustrated book include quite small family homes which have been adapted to the demands of creating a working space within a domestic environment. Learn from the principles illustrated: no clutter, clean spaces, and a well organised room.
Buy the book from Amazon UK
Buy the book from Amazon US
---
The home office
But if it gets more serious and you want to establish a grown-up home office, you might want to create a professional work space. The basic requirements for a home office are a desk, a telephone, and storage for paperwork. Depending on the nature of your business, that's probably the minimum. But if you want to give yourself a chance of being taken seriously, I would recommend two additions – a computer and a connection to the Internet. Since you're reading this on the Internet, you've probably already got that.
The telephone
Get a dedicated line or use your mobile telephone number exclusively for your business calls. Don't try to piggy-back off the household telephone line. Nobody will take you seriously if they ring up and are answered by a child who says "I'll pass you to my Mum/Dad". You might need a separate land line or a mobile number – but this is a small and worthwhile investment. Just look around you. Painters, plumbers, decorators, sales reps – everybody these days has a mobile phone.
Don't even share a line with your spouse/partner/wife/husband (does that cover it all?) because when the phone rings, who answers it? Believe me, it's a recipe for arguments and territorial squabbling. A separate telephone number is a minimal requirement for anybody wanting to be taken seriously in business. You'll also benefit by having an answerphone. They're cheap, and will cover any time you're not in your office.
Email
The same's true of an email address. Your customers will not be impressed if they are asked to reply to <johnandbarbara@fireside.Yahoo.co.uk>. Who is running the business – John, or Barbara? Do they both read the emails?
You should have an email address of your own – and it should have your business as a domain name. In other words <Barry@hotmail.com> could be anybody in the world. It gives you no identity, no distinction, and no business credibility. On the other hand, <info@bigservices.co.uk> looks more professional.
---
Fax
A fax machine used to be a badge of pride for anybody setting up their own business. But now you'll find that it's only the most old-fashioned concerns such as solictors who use them. Everybody else uses documents sent as attachments to email messages. So you can save on setup expense by ditching this cumbersome bit of Old Technology. All you need instead is an all-in-one printer-scanner-copier. At the time of writing these start at only thirty pounds.
Meeting clients
If you are working from home – from an office in the box room or even a corner of the spare bedroom – there comes a moment when you make contact with a potential client and need to meet up to discuss business. Ooops! It wouldn't look good to invite Mr Big from Megabucks Ltd to your semi at 13, Oildrum Lane. You're certainly not going to invite them back to your house to discuss business surrounded by unmade beds and children's toys.
Don't worry. This happens to everybody when they start up. But there are perfectly simple solutions. Either you offer to meet them on their premises (and you turn up on time, looking smart) or you invite them to meet in a public space in a location convenient to both of you. This could be a hotel lounge, a restaurant, or a bar somewhere convenient.
---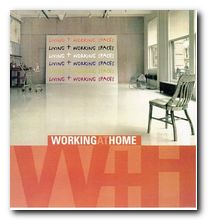 Working at Home shows interiors for writers, artists, musicians, and graphic designers. Most are minimalist design – plain walls and floors, no decoration, wood in teak or beech, lots of opaque tinted green glass, polished chrome fittings, simple halogen lights, chairs with tubular chrome legs, and giant settees in black leather. And the clutter which blights commercial offices has been purged – to stunning effect.
Buy the book from Amazon UK
Buy the book from Amazon US
---
Extra tips
Here are some tips for making your work space more professional, more visually appealing, and more productive. All the suggestions are easy to implement, and they'll make an immediate improvement to your working life.
Straighten your bookshelves
If you have books, folders, box files, or any other items stored on open bookshelves – get them straightened up. Make the items stand up straight; get them in line; and eliminate any flopping and sloping items. Leave any empty spaces free or fill them with decorative objects, such as vases or ornaments.
Clear the desk
A cluttered desk is a recipe for constant irritation. Get rid of papers, memos, post-it notes, paper-clips, coffee mugs, photographs of the family, 'amusing' messages, and any other detritus from your working space. Be completely ruthless, and start from a clear working space. You'll immediately feel better.
I know that there are exceptions. The painter Francis Bacon famously worked in a state of abject squalor. But you're not Francis Bacon – and anyway most successful business people don't work that way.
De-clutter regularly
Every day you will receive circulars, flyers, bills, advertising, and publicity materials through the post. Take one look at each item; decide if it's important or if you want to keep it; and if not – throw it away. Don't have a big IN-tray – otherwise that's extra work to be done.
---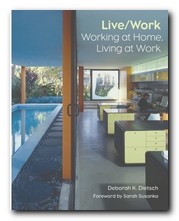 Live/Work is a collection of projects where living and working environments have been merged. The results prove that you can transform a house, a flat, or even an industrial site so that it becomes a very comfortable and attractive hybrid. Examples include the homes of architects, a painter, a photographer, a fashion designer, a restaurateur, a documentary film maker, a physical trainer, even a priest marrying people out of his own home-church.
Buy the book from Amazon UK
Buy the book from Amazon US
© Roy Johnson 2004
---
More on How-To
More on literary studies
More on writing skills
---