making a good impression on paper
What is a personal statement?
A personal statement is an account of your own qualities, skills, and ambitions which is made to accompany job applications, funding bids, sponsorship requests, and applications for a place in further or higher education.
Think of it as being like a personal introduction, presenting yourself to an individual or an organization, and putting a human personality to a formal request.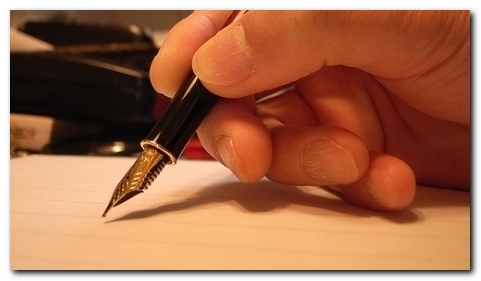 do yours with a word-processor
A personal statement is separate from your curriculum vitae (CV) which lists your formal qualifications and your previous experience.
A personal statement is most commonly required in the UK by the Universities and Colleges Admissions Service (UCAS) when you are applying for a place at a university.
The personal statement is where you can tell your preferred universities why they should offer you a place on the course you have chosen.
---
Who will read a personal statement?
The reader of your statement will be a potential employer, a personnel manager, or an admissions tutor in your chosen faculty of study – arts, science, or technology.
The admissions tutor might be a lecturer on your chosen course (if you are lucky). He or she will decide whether to offer you a place on the course or an interview, based on the information you have written on the form.
First they will look at your academic achievements and decide whether you seem capable of completing their course.
Then they will read your personal statement, and judge whether you are the kind of person who has the motivation and personality to complete the course successfully.
---
First impressions
Your personal statement is an opportunity to make a positive impression. You will need to convince them that you are also a person who should be accepted on the course or considered for employment.
You need to show the reader that you are:
able to express the reasons for your choice of course
motivated, and committed to your subject
aware of your career options and have some clear ambitions
somebody who has outside interests, apart from your studies
You may be applying to several different universities in the hope of securing a place. But your personal statement should not be identical in each case. You need to tailor the statement to your chosen subject of study, or the ethos of the institution.
The same would be true of a personal statement made in conjunction with a job application. You're trying to convince that particular employer that you are suitable for the position and interested in working for the company.
The same would be true if you were applying for a bursary, a grant, or funding of some kind. Your personal statement confirms that there is a fully rounded human being making the application. It is also an opportunity to say what you would do with the funding if it were granted.
---
Interviews
If the university or the employer does not interview prospective applicants, then a personal statement is your only chance to convince them to accept you.
Many institutions and employers no longer conduct interviews with all prospective applicants, because of the costs involved. They make a preliminary choice by skim reading through written applications, and only interview the few they select on written evidence.
If you are offered an interview, the interviewers will use the personal statement as a starting point for the questions they ask you. So it's important for your statement to be interesting, fresh, and honest.
If you've written something which isn't true, you're likely to become confused if you're asked a question about it at the interview.
---
Warning
There are lots of web sites that show you examples of personal statements. Many of them ask you to pay for this service. You should avoid using these services because they may encourage you to do two things:
pay to see other people's personal statements
copy parts of other peoples statements instead of writing your own original words
It's far better to write your own statement, honestly and imaginatively. Everyone is different, and you should be proud of your achievements and aspirations, and pleased to express them.
You can apply online using the UCAS Apply system – but you should prepare all your information in advance.
Use the UCAS guidelines if necessary.
---
How to write the personal statement
Don't imagine you can sit down and write your personal statement in one attempt. First you need to plan the structure of the statement, and then generate its content in several drafts.
Planning
Sit down and make a list of all the general areas you might wish to cover in your statement. The list might include items such as:
hobbies
personal achievements
part-time jobs
life skills
social activities
special interests
If the personal statement is to accompany a curriculum vitae (CV) do not list your formal educational qualifications or a record of your employment.
These items should be arranged to create a clear structure. Show your first ideas to family and friends. They might think of skills or advantages that you possess but have taken for granted or forgotten.
Here are some general points about generating ideas for writing your personal statement.
Multiple drafts
Do it all your preliminary writing in rough first, and be prepared to do two or three versions before you get the right combination of words.
Do not be tempted to cut and paste materials off the Internet. There are now plagiarism checkers which will spot text that has been copied from somewhere else.
If you are applying to university, try to link your hobbies and experience(s) to the courses you are applying for. You need to show why you are interested in your chosen subject.
Write the final draft in short clear sentences, and use short paragraphs that make the content easy to read. Use sub-titles that indicate clearly what each section is about.
When you have produced your final draft – no matter how long it has taken – always check your spelling, grammar, and punctuation before submitting the final document.
© Roy Johnson 2014
---
More on How-To
More on literary studies
More on writing skills
---