hypertext essays on literature and literary theory
This is a two-disk hypertext version of Landow's 1992 print publication, Hypertext: the convergence of contemporary critical theory and technology. For those who are not acquainted with the original, Landow sets out a case for hypertext which looks at issues of textual authority, intellectual ownership, and the philosophy of a writing which can never be 'finished'.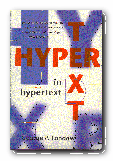 He notes the similarities between the new technology and contemporary critical theory which seeks to undermine the authority of texts and authors. So what's new in the electronic version? Well, Landow has included many of the texts from which he quotes in the earlier printed book. There are also essays on Barthes, Bhaktin, and Foucault. He includes reviews of the original book, as well as some (typically feeble) parodies by Malcolm Bradbury.
There are mini-essays from students explaining and often criticizing some of the arguments. Landow observed in the original version that hypertext was ripe for exploiting this all-inclusiveness, and he has been as good as his word by adding material which even undermines his own work in this way. This might be seen as a courageous move from someone who could easily have insisted on absolute textual authority. Alternatively, you could say that it reflects his impregnability in the academic hierarchy. Would someone without tenure dare risk such a venture?
Some material has been added for this hypertext edition. For instance, it includes the text of the original proposal to Johns Hopkins Press: "This project will include …" and so forth. But I'm not so sure that readers want to know about these details of the planning stage. It's one thing to have the early drafts of "King Lear", but presenting the outline plans for a book of cultural argument (even an interesting one) is another matter. We warn students against discussing the process of composing their essays. All that's required is the finished product – not the means by which it arrived.
The bibliographical jump-links are good. This is technology which works more efficiently than a printed book. Strangely enough though, there are not as many notes or pop-up screens as one might expect. Perhaps this is because the basic text was conceived and executed in the Old Days of sequential writing?
What he has done is split the original into smaller sections – but they're still not small enough. On my 17-inch monitor screen there are 'pages' which require so much scrolling that one craves for the start of a paragraph. The fact is that even with a knowledge of the original printed text, reading this version on screen is not easy. It's difficult to keep any sense of structure in mind. This experience supports the notion that writing for screen and for print require quite different skills.
He argues fairly persuasively that Hypertext is useful in learning the
culture of a discipline, because we can switch easily from the principal text to supplementary readings of it:
hypertext materials provide the student with a means of experiencing the way an expert works in an individual discipline … such a body of electronically linked material also provides the student with an efficient means of learning the vocabulary, strategies, and other aspects of a discipline that constitute its particular culture
Anyone interested in the potential relationships between hypertext and cultural theory should try to see this program in action. It may well be that sustained and continuous arguments made in prose are not actually suitable for this format, but one can hardly blame him for trying out his theories. He could be a little more inventive with his titles, though, couldn't he?
© Roy Johnson 2000

  Buy the book at Amazon UK


  Buy the book at Amazon US
---
George P. Landow, Hypertext in Hypertext, Baltimore/London: Johns Hopkins University Press, 1994, ISBN: 0801848695 (Windows version) ISBN: 0801848709 (Mac version)
---
More on literature
More on the novella
More on literary studies
More on short stories
---