characters, resources, video, translations
There's no doubt about it: if you're going to tackle In Search of Lost Time (or Remembrance of Things Past as it is also known) you need to be in good intellectual shape. The sentences are long, the paragraphs are huge, and at a million and a half words his great novel is one of the longest ever.
But it can be done – and the benefits are enormous. Proust delivers gems on every page. He is of course celebrated for his psychological insights. His characters live and breathe in a way which makes you feel they become your personal friends. Don't expect plot, suspense, or even story in a conventional sense. This modern classic is one of characters circling around each other in a way which depicts an entire world of upper-class fin de circle France before and shortly after the First World War.
However, the greatest depths he offers are in the form of profound reflections on some of the most important issues any novelist can approach – love, desire, memory, time, and death. These are written in the form of extended aphorisms, embedded as part of his narrative in such a way that you will hardly be aware where one ends and the other begins.
Other people are, as a rule, so immaterial to us that, when we have entrusted to any one of them the power to cause so much suffering or happiness to ourselves, that person seems at once to belong to a different universe, is surrounded with poetry, makes of our lives a vast expanse, quick with sensation, on which that person and ourselves are ever more or less in contact.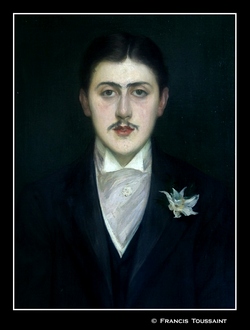 Marcel Proust – portrait by Jaques Emil Blanche
---
Study resources

In Search of Lost Time – 6 volume boxed set (Modern Library) – UK

In Search of Lost Time – 6 volume boxed set (Modern Library) – US

In Search of Lost Time – 4 volume boxed set (Everyman's Library) – UK

In Search of Lost Time – 4 volume boxed set (Everyman's Library) – US

Proust: an illustrated life – short biography with period photos

Proust's life and works – a detailed chronology

A Reader's Guide to Proust – Amazon UK

Proust Website – general resources

Proust's In Search of Lost Time – web site with videos

Reading Proust – various translations compared

Swann's Way – an essay on translations

Swann in Love – 1984 DVD adaptation in English – Amazon UK

Time Regained – 1999 DVD adaptation (English subtitles) – Amazon UK

Monsieur Proust – the housekeeper's memoirs – Amazon UK

Marcel Proust at Wikipedia – biographical notes, web links

Marcel Proust at Mantex – tutorials, web links, study materials
---
Proust in the original French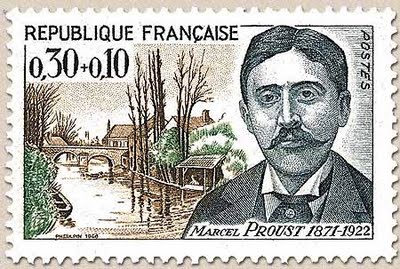 A la recherche du temps perdu – 10 volumes, illustrated (Kindle) pp.2911 – £2.22 – Amazon UK

Oeuvres complètes de Marcel Proust – Illustrated, with biography and criticisim (Kindle) pp.4100 – £1.32 – Amazon UK
---
Principal characters
| | |
| --- | --- |
| Marcel | the outer narrator of the novel |
| Bathilde Amedee | the narrator's grandmother |
| Francoise | the narrator's faithful maid |
| Baron de Charlus | an aristocratic dandy and gay aesthete |
| Duchesse de Guermantes | the toast of Parisian high society |
| Robert de Saint-Loup | army officer and narrator's best friend |
| Charles Swann | a friend of the narrator's family |
| Odette de Crecy | a beautiful Parisian courtesan |
| Gilberte Swann | the daughter of Swann and Odette |
| Elstir | a famous painter |
| Bergotte | a well-known writer |
| Vinteuil | an obscure but talented musician |
| Berma | a famous actress |
| Charles Morel | a gifted violinist, patronised by Charlus |
| Albertine Simonet | an orphan with whom the narrator has a romance |
| Madame Verdurin | a rapacious social-climber |
---
In Search of Lost Time – film adaptation
Catherine Deneuve, John Malkovich
---
Further reading

Aciman, André (2004) The Proust Project. New York Farrar, Straus and Giroux

Albaret, Céleste (Barbara Bray, trans.) (2003) Monsieur Proust. The New York Review of Books

Alexander, Patrick (2009) Marcel Proust's Search for Lost Time. Vintage Books, New York.

Bernard, Anne-Marie (2002) The World of Proust, as seen by Paul Nadar. Cambridge: MIT Press

Bloom, Harold. (2003) Marcel Proust, Chelsea House.

Carter, William C. (2000) Marcel Proust: A Life. New Haven: Yale University Press

Caws, Mary Ann. (2003) Marcel Proust: Illustrated Lives. Overlook Press.

Curtiss, Mina. (2006) The Letters of Marcel Proust Turtle Point Press.

Davenport-Hines, Richard (2006) Proust at the Majestic. Bloomsbury

De Botton, Alain (1998) How Proust Can Change Your Life. New York: Vintage Books

Deleuze, Gilles (2004) Proust and Signs: The Complete Text. Minneapolis: University of Minnesota Press

Painter, George D (1959) Marcel Proust A Biography Vols. 1 & 2. London: Chatto & Windus

Shattuck, Roger (1963) Proust's Binoculars: A Study of Memory, Time, and Recognition in À la recherche du temps perdu. New York: Random House

Shattuck, Roger (2000) Proust's Way: A Field Guide To In Search of Lost Time, W. W. Norton

Tadié, Jean-Yves: Marcel Proust: A Life. Viking, New York, 2000

White, Edmund (1998) Marcel Proust: A Life. New York: Viking Books
---
Proust's writing – I

Mont Blanc – Marcel Proust special edition
Don't let this glamorous fountain pen deceive you. Marcel Proust's writing instruments and his notebooks were quite humble. He used Sergent-Major nibs and pen holder which were the cheapest of their kind. For paper, he used the common French school children's exercise notebooks which he purchased in bulk.
---
Parisian interior – La belle epoque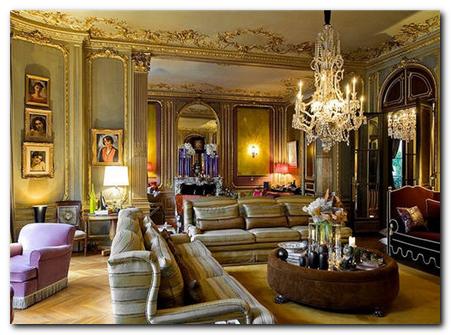 ---
Proust's writing – II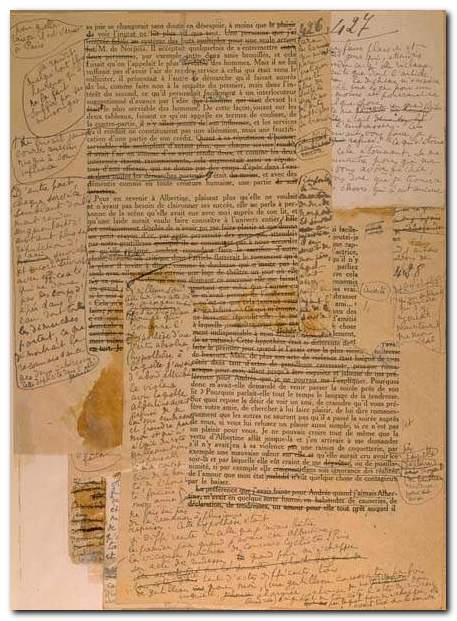 Revisions to a typescript
Proust's method of composition was highly accretive. He wrote primarily in children's exercise books, but his first drafts were supplemented by countless additions, revisions, and extensions of thought which he scribbled down on any paper which came to hand.
Envelopes, magazine covers, scraps of paper of different length and format were glued into the exercise books or joined together to form long scrolls sometimes two metres long.
This process also continued when proofs of his manuscript came back from the printer. This was a habit very similar to that of his illustrious predecessor Balzac. As Terrence Kilmartin observes:
The margins of proofs and typescripts were covered with scribbled corrections and insertions, often overflowing on to additional sheets which were glued to the galleys or to one another to form interminable strips – what Françoise in the novel calls the narrator's paperoles. The unravelling and deciphering of these copious additions cannot have been an enviable task for editors and printers.
---
In Search of Lost Time – editions
Click the jacket covers for further details at Amazon UK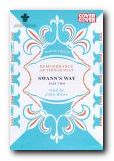 Which translation should you read? In English there are three options currently in print. My favourite is the oldest by C.K. Scott Moncrieff. It was the first to appear as the original volumes were published, and it even had Proust's own blessing. Although it is based on a version of the French original which was not complete, it has a charm all of its own. It is this version which gave the novel its alternative title Remembrance of Things Past when Scott Moncrieff chose a quotation from Shakespeare's Sonnet XXX, rather than a literal translation of the original:
When to the sessions of sweet silent thought,
I summon up remembrance of things past
The jacket cover illustrated here is that of the old Chatto and Windus edition which was presented in twelve volumes. Snap these up if you see them, but in the meantime this translation is available from Penguin books.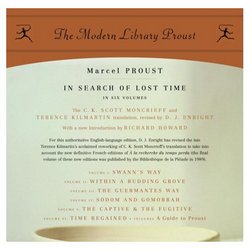 The second option is an edition which is based on the Scott Moncrieff original translation, but which was revised and re-translated by Terrence Kilmartin in the 1990s. This version is also informed by updated versions of the original text in French, including new material which has come to light since the author's death. Kilmartin's work was then itself edited by D.J.Enright
So this version comes to us with a guarantee of completeness and accuracy, but with the traces of three different translators' hands since the original work. Each volume contains its own notes, addenda, and a synopsis, so readers new to Proust can feel supported by this additional material. [It's available as a boxed set which is also known slightly mischievously as the 'Proust 6-pack'.]

There's also a more recent version produced by seven different translators. This has the advantage of being the most up to date. It is based on the latest version of a text with a very tangled provenance, and each translator writes a preface on the problems of translation. This version got a mixed reception when it first appeared. Some people argue that it removes a certain prissiness which had clung to the English version of Proust since Scott Moncrieff's translation. Others have claimed that it introduces new problems and lacks a unifying voice. Perhaps the best reason for choosing it is that it's now generally available at a cut-down price.
---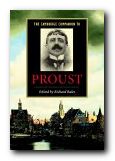 The Cambridge Companion to Proust provides essays on the major features of Marcel Proust's great work. These investigate such essential areas as the composition of the novel, its social dimension, the language in which it is couched, its intellectual parameters, its humour, its analytical profundity and its wide appeal and influence. This is suitable for those who want to study Proust in depth. The discussion is illustrated by textual quotation (in both French and English) and close analysis. This is the only volume of its kind on Proust currently available. It contains a detailed chronology and bibliography.

Marcel Proust is an excellent biography by George Painter. This study has become famous in its own right, because it combines deep insights with scholarly rigour – and it is also written in a very stylish manner. Painter sketches in the background to Parisian society, which provides a historical context for what follows. He then traces Proust's singular life (the neurasthenia, the 'job' he kept for one day, the cork-lined bedroom) up to his death in 1922 – where he was still revising his masterpiece in bed, which is where he had written most of it. This is regarded as a classic of modern biography, and in 1965 it was awarded the Duff Cooper Memorial Prize.
---
AND … now for something completely different
---
Other works by Marcel Proust

Jean Santeuil
This was Proust's 'dry run' for his major work. It's an unfinished (though quite long) fragment of a novel about the life of a young Parisian man which tells the story of boyhood summers of strawberries and cream cheese, of garlands of pink blossom under branches of white may, of love and its lies, of political scandal and of his deep feeling for his parents.

The Pleasures and the Days
Set amid fin-de-siecle Parisian salon society, these sketches and short stories depict the lives, loves, manners and motivations of a host of characters, all viewed with a characteristically knowing eye. By turns cuttingly satirical and bitterly moving, Proust's portrayals are layered with imagery and feeling, whether they be of the aspiring Bouvard and Pecuchet, the deluded Madame de Breyves, or Baldassare Silvande, saturated with regret, memory and final understanding at the end of his life.

Contre Saint Beuve
This series of essays has as its centrepiece Proust's literary manifesto. In it he argues for an essentially modernist position – that works of art should be considered autonomously, rather than objects which we use as a means of exploring the author's biography.

The Complete Short Stories of Marcel Proust
© Roy Johnson 2010
---
More on Marcel Proust
Twentieth century literature
More on biography
---