compendium of digital type from independent foundries
This is a wonderful collection of over 2000 fonts from eighteen of the most innovative independent type designers. It's essentially a typographic sample book, but some top class design and innovative presentation make it much more than that. Indie Fonts itself is an amazingly stylish production. It's well designed, beautifully printed on good quality paper, and laid out in a way which displays full font sets without every page ending up the same. They don't do the usual thing of simply showing the alphabet in upper and lower case over and over again. Every page is different, and the text often describes what the font is attempting to do.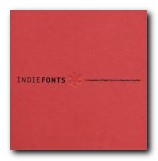 The font styles include serif, sans serif, script, display, non-Latin, and ornaments. They also include all sorts of page decorations, swashes, figures, icons, and dingbats. Another interesting feature is that almost all these fonts are actually usable for practical day-to-day applications. There are none of the scribbles, distortions, and virtually unreadable grunge fonts that sometimes wish to pass as clever modern typography. Even the wacky and avant-garde Chank studio of Minneapolis produces font sets that can be read and used commercially.
The foundries represented range from Letterror, PSY/OPS, and Test Pilot Collective, to P22 type foundry, Font Diner, and Astigmatic One Eye Typographic Institute. Each of them is introduced with the print equivalent of a colour splash page. There are also introductory notes on each foundry, and the entries for Matthew Carter for instance offer mini-essays in typeface construction and the practical reasoning behind design decisions.
Type styles range from the best of Carter's classic designs to the latest irreverence of Chank Diesel. Any designer searching for unique typefaces will find what they are looking for, from historical revivals to futuristic techno faces.
The book comes with a CD-ROM which features a selection of thirty-three font sets which are free for you to use – but not distribute. Anybody who is interested in typography ought to see this book. Serious designers will want to own it.
© Roy Johnson 2002
---
IndieFonts, Buffalo, NY: P-Type Publications, 2002, pp.408, ISBN: 0963108220
---
More on typography
More on technology
More on digital media
---