influential 20C designers, companies, and products
These Taschen pocketbooks are very well produced, with high quality print, full colour illustrations, and amazingly cheap. I've bought several of them, both in the UK and abroad, and somehow always been surprised at the integrity of the writing and the scholarship. But I have not been surprised at the quality of the illustration and the graphic design. It's always been first rate.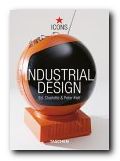 This particular volume concentrates on industrial design – which authors Charlotte and Peter Fiell suggest is a twentieth century concept which essentially adds aesthetics to functionality and mass production. It's an A to Z listing of designers and companies, running from AEG, via Herman Miller, to Xerox and the stylish but ill-fated product of Ferdinand Graff von Zeppelin.
Each entry consists of a biographical sketch or a historical account of a design company. The range of products represented is truly amazing – everything from the ball-point pen to aeroplanes designed by Boeing and McDonnell Douglas. There are cars, cameras, telephones, vacuum cleaners, computers, typewriters, radios, and kettles, electric shavers, and office furniture. All of these design classics are illustrated by well-chosen full colour photographs.
Standout individuals include the multi-talented and hugely influential Peter Behrens, Henry Dreyfuss, and Raymond Loewy. It's interesting to note how many of the most influential were trans-nationals and how many German – either by birth, education, or influence.
The authors are both experts in industrial design, both ex-Sotheby's, and now running their own design consultancy in London, specialising in industrial design. They offer some fascinating information which reveals the breadth of their knowledge. Did you know that over 15 million BIC pens are sold every day, and that the best-selling iMac was created by the English designer Jonathan Ive?
If you are the slightest interested in design, it's really impossible to go wrong with this book – which is itself well designed, stylishly illustrated, and amazingly cheap.
© Roy Johnson 2004

  Buy the book at Amazon UK

  Buy the book at Amazon US
---
Charlotte and Peter Fiell, Industrial Design A—Z, Taschen, 2003, pp.190, ISBN: 3822824267
---
More on design
More on media
More on web design
More on information design
---