illustrated and amusing instruction design graphics
Have you ever tried to erect a wardrobe from the instructions in a self-assembly pack? Or followed the printed notes for programming your VCR? Open Here presents an entertaining collection of diagrams, graphics, and visual instructions for tackling the problems of everyday life which baffle us all. It includes such tricky examples as how to tie a bow tie whilst looking in a mirror, and what instructions to give people for the emergency evacuation of an aeroplane.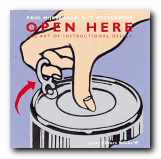 Mijksenaar and Westendorp achieve much of their effect from the vibrant colour reproductions of instructional design with which the book is packed. Every page is a visual treat. The examples they give are so wide-ranging that I often wished they had stayed longer on any one, providing a more extended analysis, rather than flitting so swiftly onto the next after a few comments.
There's also an interesting historical overview which shows the presentation of instructions going from realistic photos or drawings of whole objects in the nineteenth century, to more recent depictions which tend to focus on specific parts or functions.
However, applying the principles they espouse to the book itself reveals a weakness as far as the serious sector of their potential market is concerned. Some pictures have explanatory captions, whilst others do not; and on the whole, rather too much space is devoted to visuals and too little to their textual commentary, which for the most part is tantalisingly cryptic.
In addition, they don't always make a clear distinction between the good and bad examples, and I was disappointed that they didn't provide a bibliography, because the book is obviously based on a lot of research. They also make little distinction between simple diagrams produced for the lay user and those expanded technical illustrations of cross-sections through a car engine which are produced for engineers. But then, this variety adds to the book's visual appeal. I was yearning for more analysis, but read it with a permanent smile on my face.
This is a lively and refreshing publication which will make anyone reading it intensely conscious of instructional design. The text suggests that their examples are drawn from an archive of materials which has been built up over thirty years, so I hope that their next publication provides a more extended analysis using similar examples, but without sacrificing any of the graphic zest which makes this book so attractive.
© Roy Johnson 2000

  Buy the book at Amazon UK


  Buy the book at Amazon US
---
Paul Mijksenaar and Piet Westendorp, Open Here: the art of instructional design, New York: Joost Elffers Books, 1999, pp.144, ISBN: 1556709625
---
More on web design
More on technology
More on digital media
More on study skills
More on information design
---