how to fix the most annoying things about going online
Everybody I know has problems with the Internet – and that includes professional writers and web developers. Preston Gralla has problems too: he's the author of this book of fixes and solutions, and he's been on line since the mid 1980s. What he offers are tips and reassurance which will help you out of the most common problems. He takes the clever approach of assuming that you are familiar with the basics of computing and goes straight to the problems which bug us all most frequently.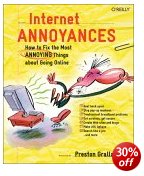 How to stop spam; how to get home networks to work; how to kill viruses. And it's not all negative. There are plenty of tips on downloading free software to help you organise multiple email accounts, index your email, and solve connection problems. I particularly liked his ultra-direct approach. He simply names the annoyance in one paragraph, then goes straight to the fix which will cure it. There's no excess fat here at all.
There's plenty on home networking and wireless network annoyances. I've never heard of anyone yet who has managed to get set up in this respect without trouble. All his solutions are quick, simple, and clearly explained. If extra software is needed, he nearly always has an option for free downloads.
He has solutions for keeping up fast and efficient connections even when you are sharing networks with bandwidth hogging music downloaders and game-playing kids.
His scope covers all sorts of online and communications technology. How to send email to a mobile phone, for instance; how to do web-based price comparisons using a mobile; and how to get your mobile and laptop to talk to each other.
If you fancy setting up on the web or starting to blog, he gets straight to the issues you will need help with – from simple setup through to uploading pictures from your mobile phone directly onto your blog.
There are lots of really useful and sensible tips – such as how to customise toolbars, how to print just the text from a web page, how to access all the advantages of Firefox (that's the free alternative to Internet Explorer) and how to customise the cookies your system accepts and rejects.
There are some suggestions I could hardly wait to try out. Free software which will search using all the search engines at the same time – and present the results in related categories. How to find all the hidden goodies in Google – such as searching and reporting back in foreign languages, plus finding news and pictures.
How about this. You can search the web and Amazon at the same time, so that in the results you see books related to the search topic. Neat idea, eh?
There's also where you can get a free online security check; how to discover the true address of spoofed emails and web sites; plus how to protect yourself in the complex and murky world of online shopping and auctions, and how to find bargains on eBay by using cute tricks such as checking for mis-spelt terms (as in 'Digital Camaras')
The internal layout and design of this book is as graceful as all other O'Reilly publications. The jacket cover is awful: just disregard it. I predict this book will do well.
© Roy Johnson 2005
---
Preston Gralla, Internet Annoyances, Sebastopol: CA, O'Reilly, 2005, pp.239, ISBN 0596007353
---
More on technology
More on digital media
More on online learning
More on computers
---