practical guide to interviewing techniques and skills
Interviewing is increasingly a core part of commerce, the professions, and in education, yet few people are aware of the many skills needed to be a good interviewer. This book is an resource for all those looking to improve their interviewing skills. It's important to stress that the advice offered is for those who will be conducting the interviews, not those on the receiving end. The first part deals with different types of interviews – from people offering advice over the counter on reception desks, to telephone, TV, and job interviews.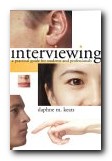 Next comes the relationship between interviewer and respondent – how empathy and rapport can built; issues of anonymity and confidentiality; and then truthfulness in representing the purpose of the interview. Anyone who has been asked questions in the street will know how common it is for interviewers to conceal their real purpose or client. Next come the important issues of constructing questions and framing the structure of the formal interview – including feedback loops. This is followed by guidance on interpreting the responses of the person being interviewed. How do we act fairly to judge non-verbal messages for instance?
The latter part of the book deals with specific examples of different types of interview – for academic research, interviewing children, adolescents, older people and those with disabilities; then interviewing people in different cultures, and people in stressful and even antagonistic situations.
It's written in an accessible style, and is based on a solid framework of both theory and research. Nothing is explored in any particular depth, but for those who might find themselves having to ask the questions, make employment decisions, and either extract information or select personnel, this will be a very reassuring starting point.
© Roy Johnson 2000

  Buy the book at Amazon UK

  Buy the book at Amazon US
---
Daphne M. Keats, Interviewing: a practical guide for students and professionals, Buckinghamshire: Open University Press, 2000, pp.162, ISBN: 0335206670
---
More on study skills
More on writing skills
More on online learning
---