the book that should have been in the box
If you buy an iPhone, the one thing you don't get is a manual telling you how it works. Oh sure – you can download a PDF file from a web site , but as David Pogue, author of this excellent guide observes, "it's largely free of details, hacks, workarounds, tutorials, humour, and any acknowledgement of the iPhone's flaws. You can't mark your place, underline, or read it in the bathroom." As most people know by now, the iPhone has completely transformed handheld mobile devices. It combines everything you need in portable computing – email, Internet access, photo and audio-visual storage, address-book, MP3 player, GPS device (maps) stock exchange figures, and games. It's the ultimate all-in-one portable device. I've bought two of these shirt-pocket miracles in the last few weeks – and the first thing I wanted after opening the box was a manual.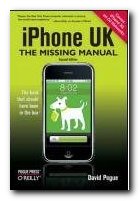 It's true, they're very easy to use, but I still needed help with some of the basics. The main learning curve with the iPhone is the nested menu system – and that's clearly explained here. Basically, you've just got to drill down from one screen to another to find your stuff. But the manual is well illustrated with photos and screenshots, so that you know exactly what you should be looking at.
One feature of the iPhone that has made them best-sellers is the navigation system. It's all done by touching, tapping, and sliding your finger across the screen. In case you didn't know, apart from the on/off switch and the volume control, there's only one button on the iPhone, and you actually don't need that very much. Everything is done with one finger touching the screen.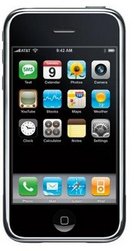 And nothing can go drastically wrong, so you don't need to worry. It's no wonder that these devices have become popular so quickly. Quite apart from the ultra-cool design, you can download games, extras, and software novelties with no trouble at all. Many of them are completely free or amazingly cheap. For instance, the 'Brushes' graphic design program used to produce these stunning pictures costs only £2.99. At this price you can afford to give things a try – and it's no tragedy if you decide not to bother.
The manual covers all aspects of the phone, and it also gives you a full guide to iTunes – the site from which Apple hopes you will download most of your music files. They currently sell for around £0.79 per track – but companies such as Amazon are currently undercutting them at £0.49 per track in an effort to capture the market.
The iPhone is of course a miracle of mobile phone technology: you can have all sorts of options – from visual voice mail to chat programs and free texting. Of course, out of the box, you are tied in to the O2 network service, but if you feel up to the challenge, you can get round this by 'jailbreaking' the phone. That will allow you to change ringtones and wallpaper, as well as choose your own mobile network. Details of how to do it are available here
There are two other things I like about the Missing Manuals. One is that they are not slavishly uncritical. If there's a shortcoming with the product, they'll mention it. And two – they'll show you how to get round the problem. There are call-out boxes packed with hints, tips, and hidden workarounds.
You can also download movies, audio books, games, podcasts, TV programmes. You can even couple up your iPhone to your TV and watch videos on a full size screen. That's why these slender hand-held computers are now regarded as something of a Killer Ap – because they have the capacity to combine all online services into one user-friendly, affordable device.
But what about all the free programs and software mentioned in the book? They've thought of that too. The book has its own web site where the latest versions of shareware and freeware are listed.
© Roy Johnson 2009

  Buy the book at Amazon UK

  Buy the book at Amazon US
---
David Pogue, iPhone UK: The Missing Manual, O'Reilly UK, 3rd edition, 2009, pp.416, ISBN: 0955750628
---
More on technology
More on digital media
More on online learning
More on computers
---