the book that  should have been in the box
I bought an iPod recently for playing MP3 music files – and I was amazed to discover that it does a lot more than that. The iPod is simply an iPhone without the phone – and this means a lot more than you might imagine. It plays music, sure enough, but it's also got a wireless card, and that means you can surf the Web, get your emails, watch videos on YouTube, check the weather or the state of your stock market investments – and all this from a device you can comfortably keep in your top pocket.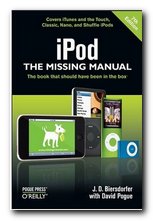 It has all these features – and yet it doesn't come with a guidance manual. You can download a PDF from the iTunes site, but reading manuals on screen is no joke – and the chances are that you'll miss some of the amazing features on this device which is in the process of revolutionising our connections with the online world. In the last year alone, more than 20,000 small applications (Apps) have been written for the iPod and iPhone – and these are so accessible and so cheap, they are driving down the price of software everywhere.
I like the approach of the missing manual series, because they're written with users' needs in mind. For instance, the first thing anyone buying an iPod probably wants to know is – how can I get music onto this thing and start listening? And that's exactly what comes up first in the manual – how to download tracks from iTunes, how to import a CD, and how to organise the music to suit your own needs.
The main learning curve with the iPod is the nested menu system – and that's fairly clearly explained. Basically, you've just got to drill down from one screen to another to find your stuff. But the manual is well illustrated with photos and screenshots, so that you know exactly what you should be looking at.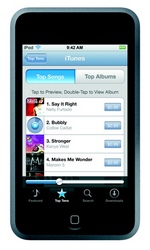 And nothing can go drastically wrong, so you don't need to worry. It's no wonder that these devices have become so popular so quickly. Quite apart from the ultra-cool design, you can download games, extras, and software novelties with no trouble at all. Many of them are completely free or amazingly cheap. For instance, the 'Brushes' graphic design program used to produce these stunning pictures costs only £2.99. At this price you can afford to give things a try – and it's no tragedy if you decide not to bother.
The manual covers the iPod Touch, the Classic, the Shuffle, and the Nano, and it also gives you a full guide to iTunes – the site from which Apple hopes you will download most of your music files. They currently sell for around £0.79 per track – but companies such as Amazon are currently undercutting them at £0.49 per track in an effort to capture the market.
There are two other things I like about the Missing Manuals. One is that they are not slavishly uncritical. If there's a shortcoming with the product, they'll mention it. And two – they'll show you how to get round the problem. There are call-out boxes packed with hints, tips, and hidden workarounds. I discovered a really useful feature for anybody using an iPod whilst on the move: you can locate the nearest free WiFi hot spot simply by finding your location on Google Maps, then doing a search on WiFi.
You can also download movies, audio books, games, podcasts, TV programmes. You can even couple up your iPod to your TV and watch videos on a full size screen. That's why these slender hand-held computers are now regarded as something of a Killer Ap – because they have the capacity to combine all online services into one user-friendly, affordable device.
© Roy Johnson 2010

  Buy the book at Amazon UK

  Buy the book at Amazon US
---
David Pogue, iPod: The Missing Manual, Sebastopol: O'Reilly, 2010, pp.304, ISBN: 1449390471
---
More on technology
More on digital media
More on online learning
More on computers
---