tutorial, critical commentary, plot, and study resources
King, Queen, Knave was first published in Berlin in 1928 under the title Korol, Dama, Valet. It was Vladimir Nabokov's second novel, written in his native Russian, and appeared under the pseudonym Vladimir Sirin, which he had adopted earlier to distinguish himself from his father (also called Vladimir Nabokov) who was a writer and a politician. The novel was much later translated into English by Nabokov and his son Dmitri, and published in London in 1968.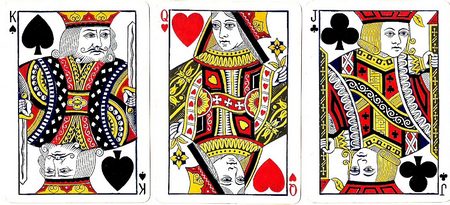 ---
King, Queen, Knave – critical commentary
Characters
There are really only three characters of any importance in the novel – Kurt Dreyer, his wife Martha, and his young nephew Franz. Because there are only three characters, the motivation for their behaviour becomes an important factor in the logic and development of the narrative.
Dreyer is almost a parody of the rich and bountiful uncle. He is affable and generous towards his nephew, and he is amazingly tolerant towards his cold and unresponsive wife, though we do learn that he has liaisons with two of his former secretaries ('stenographists'). We are given no information that explains his indulgent attitude to Franz, and he passes the whole narrative apparently sublimely ignorant of his wife's infidelity and her plans to kill him.
Martha is a cold and scheming manipulator who is obnoxious to her husband and nasty to everybody else except Franz. She even mistreats her own pet dog, and eventually arranges for it to be put down. Her physical attractiveness is seen largely from Franz's point of view. The main problem with her characterisation is that it is very unlikely that a woman of her type would forge such an important alliance with an inexperienced and penniless young man from the countryside who was fifteen years younger, and her protestations of love for Franz do not seem psychologically convincing.
Franz is the archetypal naive young man from a small country town sent into the big metropolitan city to make good. He is treated generously by his rich and indulgent uncle, and then seduced by his scheming aunt and led into the realms of plots to murder his own benefactor. As this process deepens, he does become quite convincingly distanced from Martha and oppressed by the illicit relationship he has forged with her.
Translation
Nabokov wrote his earliest novels and stories in Russian, but when he emigrated to the United states in 1940, he switched to writing in English – the 'third' language of the Russian aristocracy (French being second). For the next twenty years he worked as a college and university teacher, then following the worldwide success of his novel Lolita in 1959, he moved to Switzerland and began translating his earlier works into English – for understandable commercial reasons.
It is almost certain that he 'improved' these earlier productions during this process. In his author's foreword to the English edition he admits to not only making 'little changes' but to having 'mercilessly struck out and rewritten many lame odds and ends' as well as making changes to the plot.
The little changes show up nowhere more obviously than in his choice of vocabulary. Nabokov was much given to stylistic quirks such as the use of mixed registers, alliteration, and obscure terminology – but some of the language he uses in King, Queen, Knave gives the impression of having been excavated from a very large dictionary and shoehorned into the narrative. He uses terms such as nacrine, chelonians, cerevis, chorea, pygal, karakul and even words he makes up, such as avunculicide.
It is not just that the terms are obscure, but they do not sit easily with the prose in which they are embedded. They create a distinct impression of an author showing off – something about which Nabokov's detractors have often complained.
There are also instances of irregular translation and non-standard English. Dreyer at one point is described as a 'saloonkeeper' which he certainly is not, and at another point Martha finds 'an old little album of faded snapshots' – which any native speaker would render as 'a little old album'.
There is no cultural law against an author 'improving' his own work. This process commonly takes place in early drafts and revisions of a work in galley proof. In the nineteenth century it also took place when a work made its first appearance in serial magazine format and then was re-edited by the author before its publication as an independent volume as a book. But these were normally minor revisions of spelling and punctuation – what are known as 'accidentals' in editing parlance.
Substantial changes and re-workings on the other hand amount to a new version of the text, and changes to the plot make it virtually a new work altogether. This is quite a contentious issue, and there is a whole academic project waiting for someone with the language skills to make a comparison of Nabokov's early works in Russian with his later translations into English which were made by Nabokov himself, often in collaboration with his wife and son.
Reader expectation
Nabokov is particularly fond of teasing his readers and thwarting their expectations by ironic plot reversals or false signals woven into his narratives. Early in King, Queen, Knave there are a number of motoring problems, all of which seem like pre-figurations of disaster – particularly for Dreyer. First his car (the symbolically named 'Icarus') is involved in an accident, which makes him suspect that his driver has been drinking. But when the foreshadowed accident actually does occur, it is the driver who is killed, not Dreyer.
Franz never reveals the address of his seedy apartment which acts as a trysting spot for his meetings with Martha. But when Dreyer meets Franz in the street and asks to see the apartment, neither of them know what we the readers know – that Martha has also gone out for a walk and is likely to be in the room. So the scene is set for a classical farce-type exposure and denouement. But the adultery is not revealed, because the landlord actually announces to Franz (and Dreyer) that 'Your girl is in there'. Dreyer assumes Franz has a secret girlfriend, and tactfully withdraws, not realising that the clandestine lover is his own wife.
Similarly, the holiday plan to murder Dreyer by throwing him out of a boat is very carefully orchestrated and is surrounded by lots of small setbacks which heighten the dramatic tension. Dreyer at first doesn't want to get into the boat, then when he does the 'arrangements' are thwarted, and finally Dreyer reveals that he is on the point of securing a business deal that will make him even richer. Martha's ambition to be a wealthy widow leads her to call off the murder, she catches cold in the rain, and with a final dramatic plot twist, it is she who dies from pneumonia shortly afterwards.
---
King, Queen, Knave – study resources

King, Queen, Knave – Penguin Classics – Amazon UK

King, Queen, Knave – Penguin Classics – Amazon US

Korol, Dama, Valet – Russian original – Amazon UK

Korl, Dama, Valet – Russian original – Amazon US

The Cambridge Companion to Nabokov Amazon UK

Vladimir Nabokov: The Russian Years – Biography: Vol 1

Vladimir Nabokov: American Years – Biography: Vol 2

Zembla – the official Nabokov web site

The Paris Review – Interview with Vladimir Nabokov

Nabokov's first English editions – Bob Nelson's collection

Vladimir Nabokov at Wikipedia – biographical notes, links

Vladimir Nabokov at Mantex – tutorials, web links, study materials
---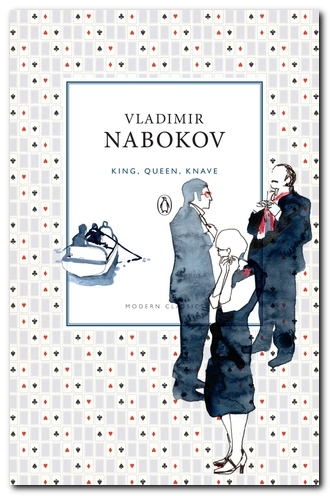 ---
King, Queen, Knave – chapter summaries
1.   Young dreamer Franz transfers from his third class carriage to second class on a train to Berlin. There he silently shares a compartment with Dreyer and his wife Martha, to whom Franz is attracted. There appears to be mild domestic tension between the couple.
2.   Next day Franz breaks his spectacles, then takes a bus to his uncle's house on the outskirts of the city. The uncle turns out to be Dreyer, who generously lavishes food and drink on him over lunch. Afterwards, Martha argues with her husband about his behaviour.
3.   Next day Franz gets new glasses and goes hunting for a room. Martha helps him to find one, then reflects on the men she has attracted. Franz goes out every day exploring Berlin, until he is suddenly summoned to the house by Dreyer.
4.   Dreyer takes Franz to his department store at night and gives him lessons in sales technique. Franz takes up his role of shop assistant but feels distant from it in the sportswear department. He visits the Dreyer house frequently and is obsessed with Martha's physical attractiveness. Martha secretly wants a lover, and thinks Franz will do. He is too timid to act.
5.   Dreyer is approached by the inventor of some synthetic material in search of funding. Franz is writing a letter to his mother one Sunday when he is visited by Martha in his room. They become lovers, and she visits him on a regular basis. Franz subsequently feels uncomfortable in Dreyer's presence. Dreyer summons the inventor to another interview, but his intentions remain obscure.
6.   Martha is in a rapture over Franz. She thinks about how much money she has for the future. Dreyer, Martha, and Franz go to a variety show. When Dreyer doesn't show up as expected, Franz and Martha have dinner alone. She becomes agitated when Dreyer is very late. Eventually he arrives, having been in a car crash which has killed his driver.
7.   Franz and Martha fantasise about marriage and begin to consider 'removing' Dreyer. There is a Xmas party where Dreyer frightens the guests and Franz is sick. Next day Dreyer announces that he is leaving for three weeks' skiing in Davos.
8.   Martha teaches Franz to dance. After two weeks Dreyer decides to go back home. Martha and Franz are playing at being married, and they narrowly miss being caught out when Dreyer returns. They start to consider various ways of poisoning him.
9.   Dreyer meets Erica, his former lover, who correctly guesses that his wife is unfaithful to him. Franz and Martha rehearse plans to kill Dreyer by shooting him. Martha locates a revolver in her husband's desk. They all go off to play tennis, at which Franz is quite hopeless. Martha explains to Franz a new (and quite impractical) plan for the shooting.
10.   Dreyer's inventor acquaintance produces an automated mannequin. The men's outfitting business starts to lose money. The gun turns out to be a cigar lighter. Martha and Franz begin to despair. Dreyer visits an exhibition of crime at police headquarters.
11.   Dreyer and Martha go for separate walks. Dreyer bumps into Franz and they go to visit his apartment, not knowing that Martha is already there. She is saved from discovery by Dreyer's misunderstanding of the landlord's warning. Preparations are made for a holiday at the seaside, where Martha has a plan to kill Dreyer by drowning..
12.   Dreyer, Martha, and Franz are on holiday at a Baltic seaside resort. Martha and Franz plan to throw Dreyer (who cannot swim) out of their rowing boat. But Dreyer reveals that he is selling his secret product and will make a lot of money next day. The murder is postponed and Martha becomes ill.
13.   Dreyer returns to Berlin and puts on a display of the automated mannequins for his prospective customer – but it does not seem successful. He is recalled to the seaside hotel, because Martha has been taken to hospital in a nearby town. Franz is oppressed by the whole intrigue, but is asked to bring Martha's earrings to the hospital. But the request turns out to be a linguistic error – and when he arrives there, she is dead.
---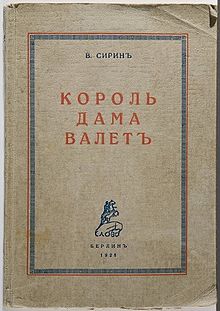 first edition 1928
---
King, Queen, Knave – principal characters
| | |
| --- | --- |
| Franz Bubendorf | a myopic 20 year old |
| Kurt Dreyer | his uncle, a rich and expansive owner of Dandy, a men's clothing business |
| Martha | his attractive and manipulative wife (34) |
| Enricht | Franz's seedy landlord |
| Piffke | a store manager at Dandy |
| Willy Wald | a friend of Dreyer |
| Elsa Wald | his wife |
---
Other work by Vladimir Nabokov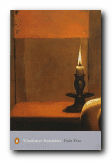 Pale Fire is a very clever artistic joke. It's a book in two parts – the first a long poem (quite readable) written by an American poet who we are encouraged to think of as someone like Robert Frost. The second half is a series of footnoted commentaries on the text written by his neighbour, friend, and editor. But as we read on the explanation begins to take over the poem itself, we begin to doubt the reliability – and ultimately the sanity – of the editor, and we end up suspended in a nether-world, half way between life and illusion. It's a brilliantly funny parody of the scholarly 'method' – written around the same time that Nabokov was himself writing an extensive commentary to his translation of Pushkin's Eugene Onegin.


Buy the book at Amazon UK


Buy the book at Amazon US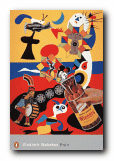 Pnin is one of his most popular short novels. It deals with the culture clash and catalogue of misunderstandings which occur when a Russian professor of literature arrives on an American university campus. Like many of Nabokov's novels, the subject matter mirrors his life – but without ever descending into cheap autobiography. This is a witty and tender account of one form of naivete trying to come to terms with another. This particular novel has always been very popular with the general reading public – probably because it does not contain any of the dark and often gruesome humour that pervades much of Nabokov's other work.


Buy the book at Amazon UK


Buy the book at Amazon US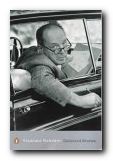 Collected Stories Nabokov is also a master of the short story form, and like many writers he tried some of his literary experiments there first, before giving them wider reign in his novels. This collection of sixty-five complete stories is drawn from his entire working life. They range from the early meditations on love, loss, and memory, through to the later technical experiments, with unreliable story-tellers and the games of literary hide-and-seek. All of them are characterised by a stunning command of language, rich imagery, and a powerful lyrical inventiveness.


Buy the book at Amazon UK


Buy the book at Amazon US
© Roy Johnson 2016
---
More on Vladimir Nabokov
More on literary studies
Nabokov's Complete Short Stories
---