working at home: living at work
Home office living isn't new. It used to be called 'living above the shop'. That was a vertical separation of living and working space. But many people are now doing the same thing horizontally, with a home office, split-use rooms, or garden shed workshops. Deborah Dietsch has assembled a collection projects where living and working environments have been merged, and the results prove that with imagination you can transform a house, a flat, or even an industrial site so that it becomes a very comfortable and attractive hybrid.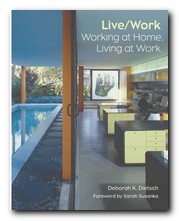 Her examples include the homes of architects, a painter, a photographer, a fashion designer, a dance tutor, a restaurateur, a documentary film maker, a physical trainer, even a priest marrying people out of his own home-church.
The examples are all very well photographed – but don't just look at the pictures in this book. There are lots of excellent suggestions and topics of design theory in the text. For instance, she argues that you should plan with the future and multi-purpose use in mind. Your work annexe can easily double up as space for occasional guests, and if things go pear-shaped commercially, you might want to let off a room or even an entire floor to compensate for lost income.
One feature I found interesting is that in each case there's a summary of what lessons can be learned from the project. These could be summarised as follows:
Don't be afraid of colour
Find beauty in industrial details
Rentals pay the mortgage
Re-use space for different purposes
Maintain a professional atmosphere
Keep living and workspaces separate
This corresponds with my own personal philosophy from hours and hours of studying design magazines and architectural source materials – and it's this. No matter how outlandish or peculiar a design scheme, no matter how unlike your own taste it might be – there's always at least one thing you can take away as a positive or a good idea from somebody else's work.
She even mentions two ideas in her introduction that I've done myself recently. You should create some sort of separate entrance so that clients or business visitors don't have to traipse through your home living space; and it's useful to have a separate table or conference arrangement so that you can arrange proper business meetings.
I can also confirm from personal experience that it's a good idea to be near services – the post office, supermarket, restaurants, cafe bars – so that you don't feel isolated if you are setting up as a sole trader.
Remember too that all these ideas are very green. If you live and work in the same space, you are not driving to work. Your carbon footprint is lower, and you can offset some of your expenditure against tax.
Of course, the success of such projects depends on where you currently live and the size of your budget for setting up a work environment. The budget could actually be zero – but this book will still give you plenty of ideas on how to arrange the space you've got to bring your life and work into some form of unified design.
© Roy Johnson 2008

Buy the book at Amazon UK

Buy the book at Amazon US
---
Deborah K. Dietsch, Live/Work – Working at Home, Living at Work, New York: Abrams, 2008, p.319, ISBN: 0810994003
---
More on architecture
More on technology
More on design
---